This is an archived article and the information in the article may be outdated. Please look at the time stamp on the story to see when it was last updated.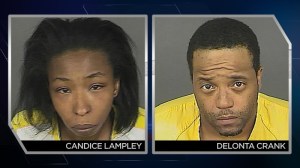 DENVER — The Denver Police Department announced Thursday morning two suspects connected with the death of a 23-month-old boy have been arrested.
Candice Lampley, 29, and DeLonta Crank, 37, are being held on charges of child abuse resulting in serious bodily injuries, pending the results of an autopsy on 23-month-old Javion Johnson.
Homicide investigators were called to St. Joseph's Hospital in a possible child abuse case Wednesday.
Questions and following up on the vehicle that transported the child to the hospital led police to an apartment complex at 17th Avenue and Franklin Street.
Earl Lampley, the boy's grandfather, said the death could have been prevented.
"This is the second incident … one on the Fourth of July. I didn't say anything, but he had a burn on his leg and it was so deep — you could see the flesh," Lampley said. "I didn't do what I was supposed to do; now he ain't here."
This slideshow requires JavaScript.