This is an archived article and the information in the article may be outdated. Please look at the time stamp on the story to see when it was last updated.
DENVER -- Two suspects have been arrested in a burglary that was caught on camera.
It happened Jan. 27 when a man and a woman stole a purse at the Wizard's Chest off South Broadway. The incident was captured on video.
Kari Moon said she was working at the time when the two entered her office and stole her purse, took $4,000 out of it, then tossed the bag in the trash. Moon said she was saving the money to buy a new car.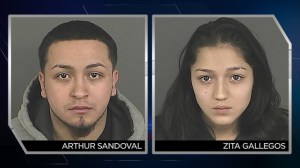 "I hope to God these people get caught before they do something like this again because it's not fair," Moon said Sunday.
Two possible suspects were identified by police from tips after the story aired Sunday and they were taken into custody.
Zita Gallegos, 18, and Arthur Sandoval, 20, were arrested and were being held on investigation of second-degree burglary and theft.
Gallegos posted bail Thursday afternoon.