This is an archived article and the information in the article may be outdated. Please look at the time stamp on the story to see when it was last updated.
WASHINGTON — Half a sentence and a typo from the President of the United States are the most-talked about trends on the internet.
Pretty much 2017 in a nutshell so far.
President Donald Trump tweeted "Despite the constant negative press covfefe," a clause with no context at 12:06 a.m. EDT Wednesday.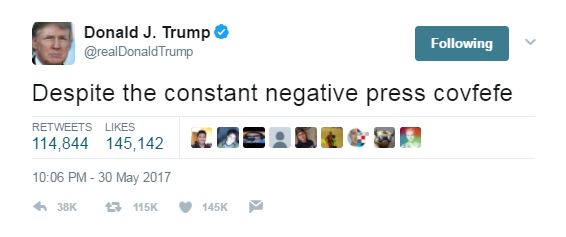 As of 4 a.m. EDT, the tweet garnered more than 108,000 retweets and more than 135,000 likes.
To put that in context, the tweet in which he claimed — without proof — that he would have won the popular vote if it were not for voter fraud had more than 52,000 retweets and more than 160,000 likes.
Some of his more recent tweets got in the lower tens of thousands of retweets.
The tweet was finally deleted about 5.50 a.m. ET Wednesday.
But at 6:09 a.m., Trump tweeted again: "Who can figure out the true meaning of "covfefe" ??? Enjoy!"
Who can figure out the true meaning of "covfefe" ??? Enjoy!

— Donald J. Trump (@realDonaldTrump) May 31, 2017
It seemed the president was going to complain about the press — something he's wont to do — but it wasn't part of a Twitter rant.
It was his first tweet in 20 hours (the last one was a retweet of a Fox News article saying Jared Kushner did not suggest opening Russian communications channel, citing an anonymous source).
Though covfefe likely was a typo when the president meant to type coverage, he'll be waking up to a lot of Twitter sass.
okay this is the best I've got #covfefe pic.twitter.com/CAD8UrP9hI

— Jackson Dame (@jacksondame) May 31, 2017
Y'all are so quick. #covfefe pic.twitter.com/j832rTmi9Y

— philip lewis (@Phil_Lewis_) May 31, 2017
My dad just bought the CA license plate "COVFEFE." #covfefe pic.twitter.com/WT5bXDTRN3

— Talya Cooper (@talicoop) May 31, 2017
https://twitter.com/braddybb/status/869784180950827008
what makes me saddest is that I know I'll never write anything funnier than #covfefe

— Jimmy Kimmel (@jimmykimmel) May 31, 2017
TV host Billy Eichner wasn't having it.
This can't be real. These people cannot be real. Please let it end. LET IT END!!!! https://t.co/UlERV8Svuz

— billy eichner (@billyeichner) May 31, 2017
One of the most popular theories is that someone tried to grab Trump's phone mid-tweet, and it was accidentally sent.
I like to imagine that "covfefe" is the exact moment someone tackled Trump and wrestled the phone out of his hand. https://t.co/96MAwttvdL

— b-boy bouiebaisse (@jbouie) May 31, 2017
No word from Merriam-Webster on whether they'll add it to the dictionary next year. They've gone back to bed.
Wakes up.
Checks Twitter.
.
.
.
Uh…
.
.
.
📈 Lookups fo…
.
.
.
Regrets checking Twitter.
Goes back to bed.

— Merriam-Webster (@MerriamWebster) May 31, 2017