This is an archived article and the information in the article may be outdated. Please look at the time stamp on the story to see when it was last updated.
LEADVILLE, Colo. — The Leadville Trail 100 Run is about to stage its 35th annual race. For the past 30 years, a small group of llamas has played a huge part in making it happen.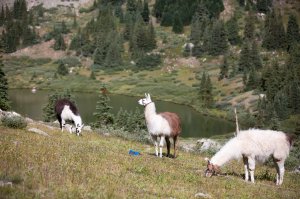 The so-called "Race Across the Sky" 100-mile run began in 1983. It's known for the extreme terrain racers must conquer, with elevations of 9,200 and 12,600 feet.
It's an arduous effort for which every finisher is awarded an iconic belt buckle and a lifetime of bragging rights.
However, there's one group of participants that will work just as hard as each runner, and they will never brag about it.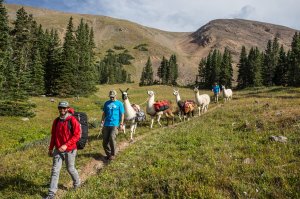 Ahead of Aug. 19, a small group of volunteers — four mules and 20 llamas — will hike up the mountain to man their posts at the Hope Pass aid station.
The group will haul 3,000 pounds of gear and food. Their supplies offer racers everything from ramen to potatoes, candy and life-saving medical care if needed.
The group will also pump, filter and chlorinate water for the runners out of nearby Willis Creek.
But perhaps one of the most valuable things this group brings to tired racers is a break from the strenuous journey, and a visit with some majestic creatures.
For 30 years Allenspark resident Vicky Foster has volunteered her time and llamas to the cause.
This year will be her last trip to Hope Pass. She will be accompanied by fellow farmer Gary Carlton, who has also been volunteering his time and llamas to the run for the past 14 years.
Carlton hails from Strasburg, where he keeps 700 acres of cattle along with his llamas.
It is thanks to Foster and Carlton that racers are provided relief at the Hope Pass aid station because it sits at the top of the course and isn't accessible by crew members.
So if it weren't for this group's hike of 12,500 feet in elevation, the aid station would not be available.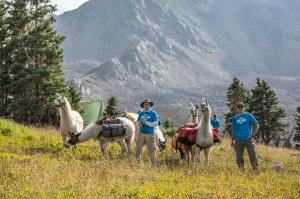 Hope Pass is also described as a very emotional point in the race because the expanse of what has been run can be seen.
It's also a chance to look ahead to the race's turnaround point in the canyon below.
Perhaps this is where it gets the name, providing a burst of hope to the humans who make it there.
As for the llamas and the mules, they just might be hoping to sneak some of that candy in their packs.