This is an archived article and the information in the article may be outdated. Please look at the time stamp on the story to see when it was last updated.
NEW YORK — Teenager Carter Wilkerson just dethroned Ellen DeGeneres' famous Oscar selfie for the most retweeted tweet.
Last month, Wendy's challenged the teen to get 18 million retweets after he asked the fast-food chain via Twitter what it would take to get free chicken nuggets for a year.
"Consider it done," Wilkerson tweeted back.
HELP ME PLEASE. A MAN NEEDS HIS NUGGS pic.twitter.com/4SrfHmEMo3

— Carter Wilkerson (@carterjwm) April 6, 2017
His plea for retweets was shared nearly 3 million times in less than a week, receiving attention from tech giants such as Amazon, Microsoft and Google.
United even offered to fly him to any Wendy's in the world if he reached the 18 million threshold.
At last check, Wilkerson had amassed 3,432,218 retweets — compared to 3,430,242 retweets of DeGeneres' selfie at the 2014 Academy Awards.
Wendy's on Tuesday said it would give him the free chicken nuggets despite Wilkerson not getting to 18 million. The company also said it would donate $100,000 to the Dave Thomas Foundation for Adoption.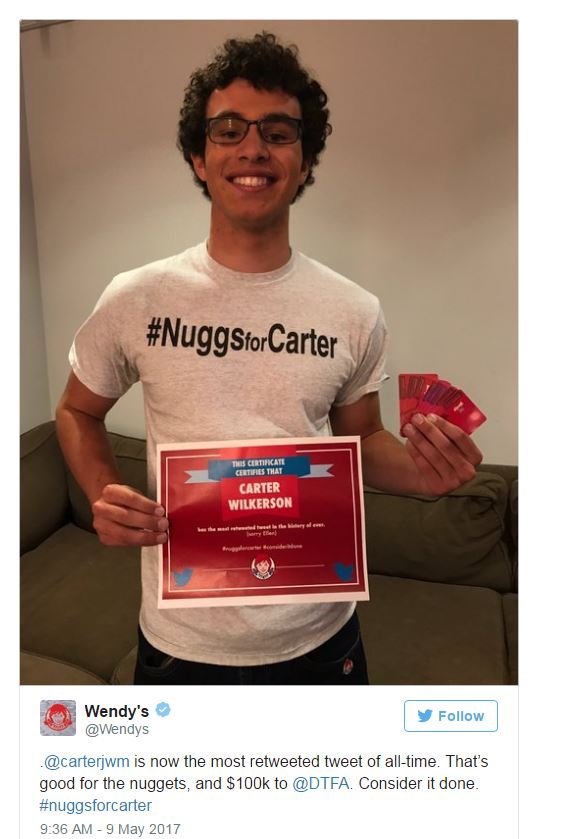 Wilkerson who is from Reno, Nev., said last month he didn't think he would even get 1 million retweets.
"At first, I didn't even expect them to respond," the teen said of Wendy's.
He also created a website at NuggsforCarter.com. Nor did he likely expect to unseat DeGeneres' tweet of a star-studded selfie from the 2014 Oscars, which previously held the record for the most retweets.
Guinness World Records' official Twitter account tweeted a congratulatory message to Wilkerson for topping that record.