This is an archived article and the information in the article may be outdated. Please look at the time stamp on the story to see when it was last updated.
DENVER — Spartan the boxer is getting stronger every day. The dog from Westminster was emaciated when his owner relinquished him in March.
On Friday, he got outside to enjoy the warm Colorado sun with his new friend.
Spartan moved in with his new foster family on Tuesday.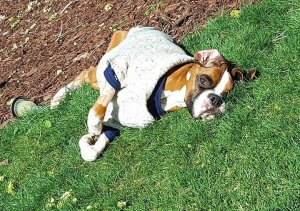 HoBo Care Boxer Rescue said personal trainers are helping Spartan regain his strength.
Veterinarians inserted a feeding tube after Spartan had surgery.
Surgeons removed a foreign object that was blocking his bowels.
Doctors say he needs to keep the feeding tube in for now, but it could come out sometime next week.
To help with Spartan's medical expenses, donations are being accepted through ColoradoGives or PayPal.
Any extra money will be used to help other dogs at the Ho-Bo Care Boxer Rescue.