This is an archived article and the information in the article may be outdated. Please look at the time stamp on the story to see when it was last updated.
PHOENIX — A photo of an Arizona mother in tears and holding her 3-day-old baby has gone viral. The picture, which has more than 20,000 Facebook shares, is sparking conversation about the struggles of being a new mom.
In the photo, Danielle Haines describes herself as a mess. She said she was tired and overcome with emotion just days after giving birth. But the photo resonates with mothers who say they, too, have been there.
"It was just real, it was honest," Haines said.
Haines said she sees the beauty in the photo taken of her three days after she gave birth to her son, Ocean.
"I hadn't really slept since I gave birth," Haines said. "My nipples were cracked and bleeding. My emotions were super open."
It was then that her friend Sarah Carter dropped by to bring dinner.
"She just sat down with me lovingly and said, 'I've been right where you're at, I know what you're feeling,'" Haines said.
"She looked incredible," Carter said. "She had the new-mom glow, the nervousness, the excitement. There's so much that comes with it and she embodied that in that moment and she was beautiful to me."
"Then she said, 'Can I take your picture?'" Haines said. "I thought it was pretty crazy, but yeah, why not and maybe one day I would thank her for it."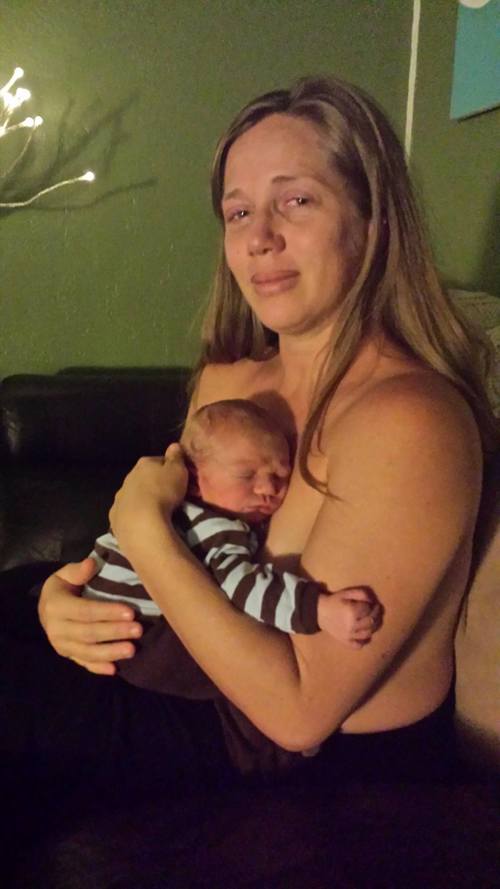 The photo remained private for 10 months, then Saturday, Haines, who is studying to be a midwife, posted it to a private Facebook group of women in a birthing class she's teaching.
"I got on later, I saw 40 shares took place," Haines said. "I thought that was pretty great. I think the next thing was like 5,000."
As of Thursday, the photo had more than 20,000 Facebook shares.
"Kind of the overwhelming response was thank you for sharing this, I felt very similar or I felt the same," Haines said. "I never felt like I had someone to talk to, I felt very alone, so I think it resonates for a lot of people because we've probably all been there."
Haines credits her close friends and fellow midwives for supporting her. One of her friends created a website called Postpartumconfession.com where women can share their postpartum stories.
Haines said overall she had a "magical postpartum," but she said it wasn't always easy.
She credits her friends with helping her through the trying times and has some advice for others.
"Just feed the pregnant moms, reach out to your friends and be there for them," she said. "That's what I had and it was amazing to be witnessed through it."