This is an archived article and the information in the article may be outdated. Please look at the time stamp on the story to see when it was last updated.
GREELEY, Colo. — A tavern's policy that thanks its patrons for not driving drunk is receiving a lot of attention after one such customer posted a photo of the gift they received for "being a drunken mess" over the weekend.
The Tavern at St. Michael's Square (2918 67th Ave.) gives free drink coupons to all vehicles left in the parking lot after closing, thanking customers for not driving while intoxicated.
One customer went back to the tavern to retrieve their car the next morning and was "pleasantly surprised" to not find a ticket, but a thank you coupon on the windshield.
The customer posted a photo of the coupon on Reddit, which went viral over the weekend, receiving almost 4,000 up votes and almost 400,000 views.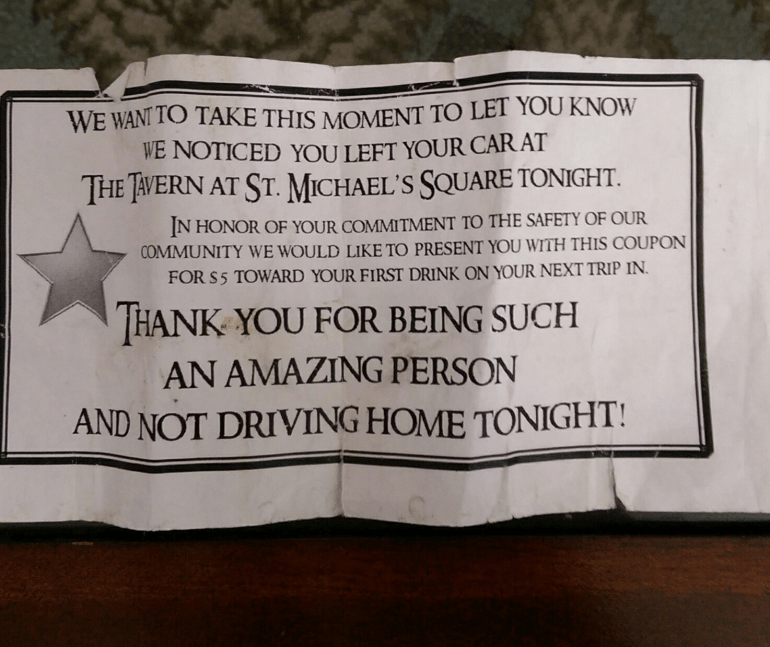 "We want to encourage our customers to have a great time while they are here and help to make sure that their night ends just as well," said Toni Patrick, the general manager of The Tavern.
According to Patrick, the bar began using the coupons in May as a thank you to the customers who chose to drink responsibly. The idea was adopted after Patrick had seen a similar coupon through one of its sales representatives and knew it was a great idea.
"The coupon incentive is key," she said, noting a coupon provides a continual reward each time customers leave their car.
Many comments on the Reddit thread applauded the idea, saying they wished more businesses would adopt the policy.
"Some bar patrons feel guilty or worry that their car might get towed. We want to encourage customers to have a great time while they are here and help to make sure that their night ends just as well," Patrick said.
The Tavern said it encourages a strong table-side message of responsible drinking, exhibited in asking how people are getting home and positive customer reactions when they have to cut off people.
Patrick said most of the customers come in aware that it is a Tavern standard and accept they are expected to behave responsibly in The Tavern and after they walk out the door.
[protected-iframe id="b9ef7b2334d82a864266b791aca87dee-29290497-62452405″ info="https://www.google.com/maps/embed?pb=!1m18!1m12!1m3!1d8595.456001506322!2d-104.79082928927377!3d40.38774284557686!2m3!1f0!2f0!3f0!3m2!1i1024!2i768!4f13.1!3m3!1m2!1s0x876ea69283ba14bb%3A0x1fc1b302de858499!2sThe+Tavern+at+St+Michael's!5e0!3m2!1sen!2sus!4v1458562813001″ width="100%" height="450″ frameborder="0″ style="border:0″ allowfullscreen=""]