This is an archived article and the information in the article may be outdated. Please look at the time stamp on the story to see when it was last updated.
PYEONGCHANG, South Korea — Ivanka Trump got to feel what it's like to be an Olympic silver medalist – at least for a moment.
Trump visited U.S. athletes in South Korea ahead of leading the U.S. delegation to Sunday's closing of the winter games. While meeting Team USA bobsledding and silver medalist Lauren Gibbs of Denver asked Trump is she wanted to try on her silver medal.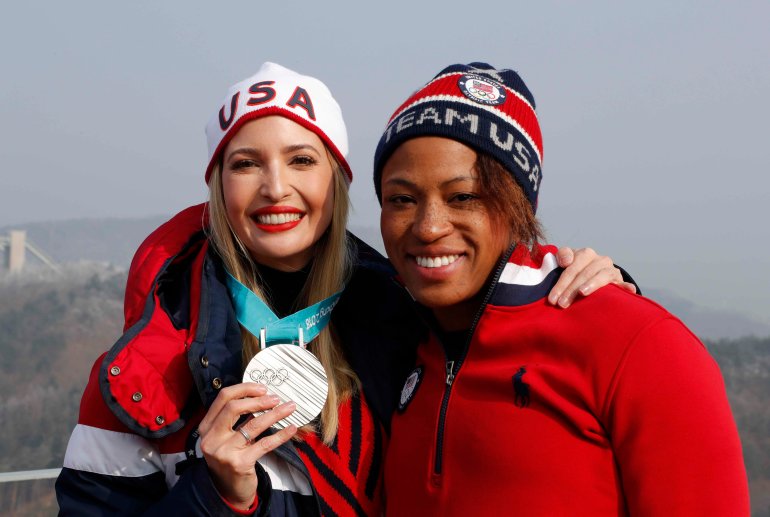 The First Daughter, of course, said yes.
"I feel like this is almost like trying on someone's wedding band," Trump said, according to report from USA Today. "Am I allowed?"
Gibbs placed the medal around Trump's neck.
"That is so cool," Trump said as she raised the medal with one hand and put her other arm around Gibbs as they posed for photos.
"I told you I wasn't going to give it back," Trump joked before returning the medal and thanking Gibbs for being so kind.
Following the exchange, Gibbs posted a selfie to Twitter with Trump and White House press secretary Sarah Sanders saying that it's important to be civil to each other.
"It's important to remember that we don't have to agree on everything to get along, be civil to each other and enjoy each others company. #itsforamerica it was a pleasure to meet you both," Gibbs tweeted.
https://twitter.com/lagibbs84/status/967603888080633856
Gibbs, a Denver native who was competing in her first Olympic games, won silver in the women's bobsled event.