This is an archived article and the information in the article may be outdated. Please look at the time stamp on the story to see when it was last updated.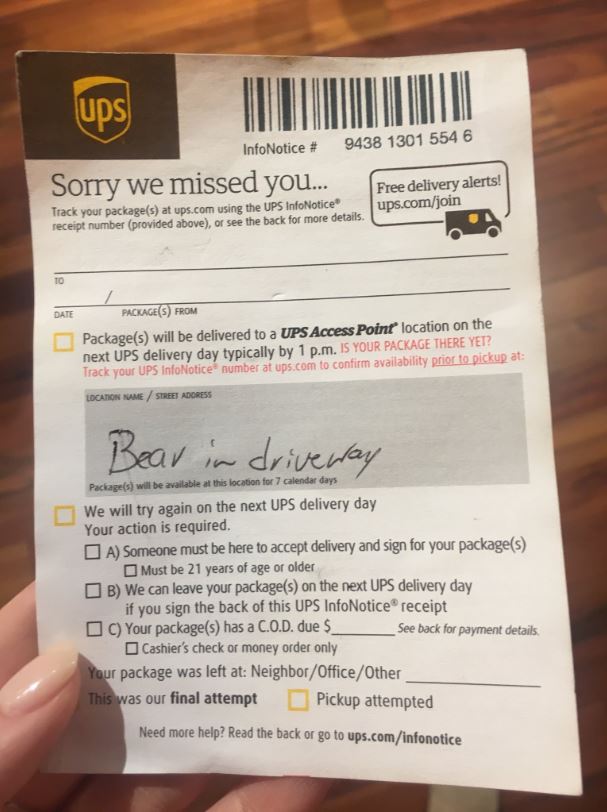 ASHEVILLE, N.C. — A North Carolina woman's photo of a UPS note has gone viral — and kind of sums up life in parts of the town.
Marcy Lanier posted a picture of a note that her UPS driver left in her mailbox, with an unusual explanation for why her package wasn't left on the doorstep, WLOS reports.
Lanier said she had no idea her Facebook post would go viral. She just thought it was funny and wanted to share.
Apparently a lot of other people thought so too because it's been shared thousands of times.
A lot of people asked how did the UPS driver get past the bear to deliver the note, and why wouldn't they just drop off the package if they did?
Lanier said her mailbox is at the top of the driveway.
"On the street. We get bears all the time," she said.
"So there was a bear in the driveway, so he couldn't drop it off on my front porch. He normally drops my packages on my front porch. So that's how it happened. He could stay safe in his truck, on the road."
The delivery driver also left the package in the mailbox, although in all the excitement, she hasn't gotten the chance to open it yet.