This is an archived article and the information in the article may be outdated. Please look at the time stamp on the story to see when it was last updated.
PHILIPPINES — Just when you thought you'd seen every fast food combination possible to mankind Kentucky Fried Chicken releases the Double Down Dog sandwich.  The menu addition was announced on  a Facebook post from KFC Philippines.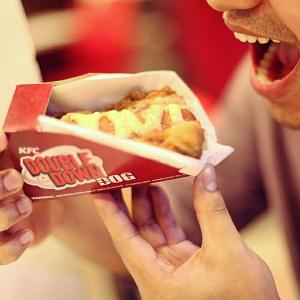 The new Double Down Dog sandwich features a hot dog covered in cheese and fitted into a bun-size piece of fried chicken.   The Facebook post says, " The all new, outrageously meaty KFC Double Down Dog will be available from January 26-27 only in the KFC stores below—and only 50 pieces will be sold per day! So make sure you don't miss this legendary sandwich!"
USA Today is reporting the sandwiches quickly sold out Monday.
Right now there are no plans to sell the Double Down Dog sandwich in the United States.
In 2010, KFC introduced the Double Down sandwich in the U.S.  It had bacon and two kinds of melted cheese  pinched in between two pieces of Original Recipe chicken fillets.
YOU MAY ALSO BE INTERESTED IN:
Fast food companies rolling out deals to get you back in the door
Girl scarred in pit bull attack, and at center of KFC controversy, to get prosthetic eye
KFC store manager saves choking customer