This is an archived article and the information in the article may be outdated. Please look at the time stamp on the story to see when it was last updated.
DENVER — As unfortunate as it is, not everyone could be born in Colorado. Even more traumatic, a Colorado resident might someday be required to move somewhere less desirable.
But there's a company that just wants to make you feel better, no matter where you're from or where you are now.
It's called Homesick Candles and it has various combinations of scents tailored to remind you of your special place.
"Homesick Candles are created by a group of friends who relocated from states they still feel close to," the company website said. "We worked hard to perfect the scent of each state we craft a candle for to create that feeling of home, wherever you may be."
Scientists know familiar scents can trigger powerful memories and feelings. So what does home smell like to you?
According to the makers of Homesick Candles, Colorado has "scents reminiscent of mountain spruce and ski lodge."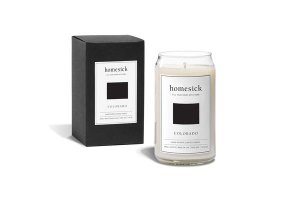 Texas smells like "leather, a bit of fresh cotton, and just a touch of sage," while Florida has a "hint of orange, a touch of sea mist, and a bit of driftwood."
If you're from California, you know it's really two states, so there are separate scents for Northern California (subtle hints of pear and redwood) and Southern California (cactus, orange, and the ocean.)
The description for New Jersey's scent is described as "reminscent of the Jersey shore." (Based on what I've learned from MTV, I'm assuming it smells like a gym, a tanning salon and a laundromat?)
For now there are only 30 varieties available, but the company insists it is "actively developing all 50 states." However, you'll have to be patient because "candle development takes several months."
You can even sign up to be notified when they are releasing a Homesick Candle for your state.