This is an archived article and the information in the article may be outdated. Please look at the time stamp on the story to see when it was last updated.
PLANT CITY, Fla. — A Florida teenager with terminal cancer married his high school sweetheart just days after discovering he only has weeks to live.
The wedding was planned in just four days because the couple couldn't afford to waste any time.
There wasn't a single dry eye inside The Big Red Barn in Plant City on Sunday. It was the special place where high school sweethearts Dustin Snyder and Sierra Siverio got to say their "I do's".
The couple got engaged on Thursday and were married four days later.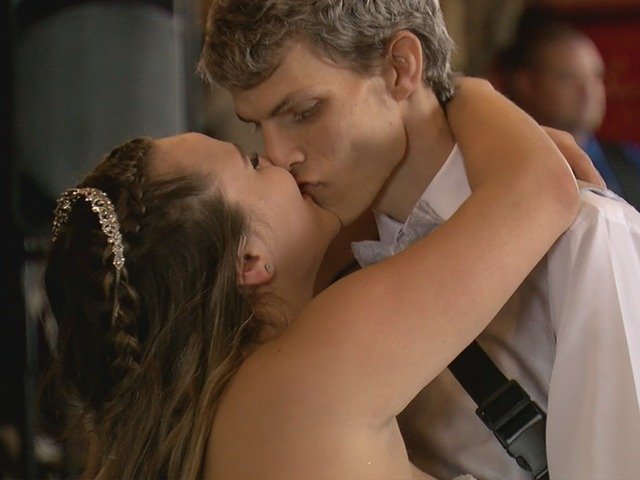 "We did it fast because honestly, we don't know how much longer he does have," Sierra Snyder said.
About a year ago, on the day before Dustin's 18th birthday, he was diagnosed with a rare form of cancer called synovial sarcoma.
Then it went into remission. It soon returned a second and a third time. That last time doctors said there was nothing else they could do.
"Appreciate the time you have," said the new bride. "You don't know how much time you have."
Her husband's doctors are expecting he has weeks to a month. But Sunday wasn't about counting the minutes.
"I feel amazing, it's the best most special day of my life for sure," Dustin Snyder said.
The crowd's hearts clashed between joy and sorrow.
Despite the tears, there's an understanding: This couple are making their dream come true.
"It's a beautiful venue, beautiful place," said Snyder. "All the people I love. All my friends, family here. This is everything I could ever ask for."
The dress. The suit. The venue, cake, deejay — everything was donated by the community in just four days.
The family got more than $7,000 in donations to help them tie the knot.
"It's meant everything. I couldn't have imagined how much support and how much love I have from this community," he said.
The moment was perfect as the newlyweds shared their first dance as husband and wife. After all, what's more important than true love?
The couple plan to celebrate their honeymoon at Disney World. They also have a trip planned to Colorado next month.