This is an archived article and the information in the article may be outdated. Please look at the time stamp on the story to see when it was last updated.
GOLDEN, Colo. — A dog brought to Foothills Animal Shelter in January is finally ready to find a forever home after recovering from an ear infection that was so severe, surgeons had to remove both ear canals.
Tundra, a 7-year-old American pit bull/Australian cattledog mix, has spent the past few months in a foster home.
When she arrived at the shelter, her ears were extremely infected. The infections had presumably been untreated for years, officials stated.
"In fact, her ears were untreated for so long that the infection had left her deaf," said Dr. Emily Hays, the shelter's chief veterinarian.
Tundra also had a large mass protruding from her neck.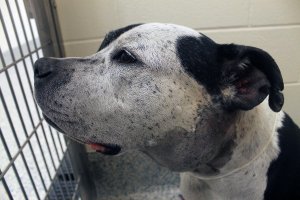 "Through a series of intensive surgeries, we realized the mass was actually due to drainage from her infected ears," Hays stated. "We ended up removing the mass and both of her ear canals. Unfortunately, this was the only way for us to get rid of the infection."
Now, Tundra is fully healed and ready to find a new family.
Officials say she is a calm dog who is great with kids and other dogs, and loves outdoor walks.
Because she is deaf, she is learning hand signals she can respond to.
Her adoption fee is $110 and includes her spay surgery, initial vaccinations, a microchip and a certificate for a free veterinary office visit.