This is an archived article and the information in the article may be outdated. Please look at the time stamp on the story to see when it was last updated.
In case you needed more proof that dogs are some of the most loyal, loving creatures on the planet, here you go.
Actor and filmmaker Easton Dufur used to have two yellow Labradors — Cookie and Stitch.
https://twitter.com/_EasyBreasy_/status/874445453143580672
The dogs had always shared one food bowl, Easton said on Twitter.
"My dog Stitch trained my other dog Cookie to only eat half the food that's in the bowl. So ever since she was young she knew to leave half the food so Stitch can have some (he liked to make sure she would eat,)" Easton wrote.
Easton explained that Stitch recently died and Cookie is alone for the first time.
"So since Stitch is gone, I've been feeding Cookie less food," Easton wrote.
"Well before I went to bed, I wanted to check to see if she ate. And so I did, and she still left half of her food there so Stitch can eat," Easton said.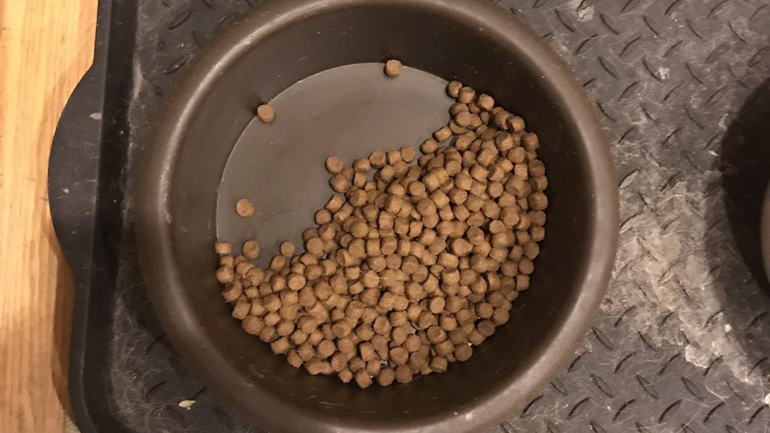 His tweet sparked a flood of emotions.
i'm crying so hard ugh oh my gosh poor Cookie missing her best friend ugh she doesn't deserve this https://t.co/B8Rw8VfRtQ

— alyssa house of stark (@aly3hunna) June 13, 2017
cookie is too good for this world https://t.co/AmMWgB8cpW

— hadia (@haahdia) June 13, 2017
— ValleyMerch🇨🇴 (@ValleyMerch) June 13, 2017
Maybe because he knew his tweet broke hearts, Easton later shared a video of Cookie and Stitch enjoying a snack together during happier times.
https://twitter.com/_EasyBreasy_/status/874455348249206785