This is an archived article and the information in the article may be outdated. Please look at the time stamp on the story to see when it was last updated.
WINSTON-SALEM, N.C. — A North Carolina restaurant treated fans of the movie and history buffs to a similar version of the last meal served before the fateful ending of the Titanic 105 years ago.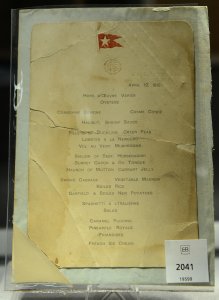 Spring House Restaurant, Kitchen and Bar developed the dinner that reflected what the ship's wealthiest passengers ate before the steamliner struck an iceberg and sank.
The meal cost $125 and was served with eight wines. The 10 courses, though scaled back, were served over the course of three hours, just as the extravagant meal would have been served in 1912.
The menu was salvaged from the shipwreck that was first discovered off the coast of Newfoundland in 1985.
"For one course — which I think must have been the big course, the showstopper — they had lamb, duck, sirloin of beef, green peas, two kind of potatoes, rice and carrots. It was a hell of a course," chef Tim Grandinetti told the Winston-Salem Journal.
The dinner was exclusive to just 20 guests who played Titanic trivia between courses.
People reported on the ship's final meal.
First course: Oysters a la Spring House (with collards and pimento cheese) and canapes a l'Amiral (shrimp with curry butter on crostini), with NV Heidsieck Monopole Blue Label Champagne
Second course: Consomme Olga (a simple beef and chicken broth) and sautéed scallops, with 2015 Simmonet-Febvre Chablis
Third course: Chilled salmon with hard-cooked egg and dill sabayon, with 2014 Thierry et Pascale Matrot Bourgogne Blanc
Fourth course: Filet mignon Lili, featuring foie gras and truffles and cognac cream sauce, over mushroom bread pudding, with 2014 Vincent Girardin Bourgogne Rouge "Cuvée Saint-Vincent"
Fifth course: Pan-roasted lamb with mint pesto carrots, pea timbale and new potatoes, with 2014 Abbey Court Cotes du Rhone
Sixth course: Punch Romaine, a palate-cleansing rum and champagne cocktail
Seventh course: Pan-roasted quail, with bourbon and pancetta demi-glaze, with 2015 Maison Louis Latour Bourgogne Rouge
Eighth course: Chilled asparagus salad with bacon jam, with 2015 Chateau de la Ragotiére Muscadet Sévre et Maine
Ninth course: Pate de foie gras
Tenth course: Vanilla ice cream with salted caramel drizzle and pate a choux (éclair) pastry, with Hidalgo Olorosso Sherry