This is an archived article and the information in the article may be outdated. Please look at the time stamp on the story to see when it was last updated.
LITTLETON, Colo. — Brett Logan is a runway rock star.
The 14-year-old has been strutting his stuff on the catwalks around Denver for the past few years. Logan even landed an agent last summer and stole the show at Denver Fashion Week.
This would be a feat for any young man, but what makes it more amazing for Logan is that he has Down syndrome.
"It just makes me so proud of him," Jennifer Nelson said. "I think that there is this negative perception of people with Down syndrome and what people with Down syndrome are capable of. I think he's proving a lot of people wrong."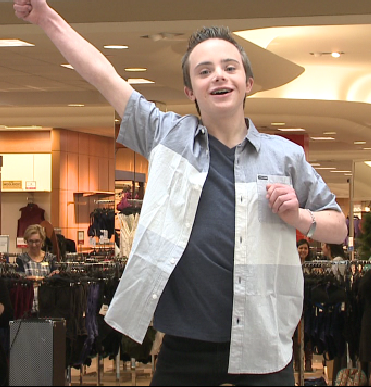 Logan was proving plenty of people wrong during a Saturday morning fashion show outside the Dillard's at Southwest Plaza.
The crowd loudly cheered him on as he showed off a short-sleeve button-up and dark pants.
Everyone was smiling and clapping as Logan added some dance moves to his runway routine. They were all proud of him, but no one more so than Nelson.
"I just love him," she said, withe a smile on her face. "There are so many great things about him."
Nelson has known this for more than six years.
When Logan was in third grade, he entered her special education classroom. Soon after, his home life fell apart and he was put into foster care.
That's when Nelson welcomed him to her home. She received legal custody of him when he was 9 and adopted him two years ago.
"He's definitely a go-getter," Nelson said. "He's not one to let people tell him he can't do something. He'll figure out a way to do it. And I think that he's got a lot of great qualities about him that will carry him along the way."
Logan and Nelson hope those qualities — and his dance moves — carry him to "The Ellen DeGeneres Show."
Nelson said Logan loves her dance moves and would love to be her dance partner for an afternoon.