This is an archived article and the information in the article may be outdated. Please look at the time stamp on the story to see when it was last updated.
COLORADO SPRINGS, Colo. — A Colorado Springs woman has developed a special connection with a deer in the area after helping the animal when it broke its leg a few years ago.
Carrie Jones said the deer, who has been named Irene, broke her hind leg a few years ago while the animal was pregnant.
Jones and her family don't support feeding wildlife and go to extreme lengths to ensure they don't, but she wanted to help so she gave Irene some water and a bail of straw to lay down on — and Irene eventually had her babies in Jones' backyard.
Now a few years later, Jones said Irene has never wondered far away and always comes back to visit.
Sometimes when someone in her house accidentally leaves the door open, Irene will just come on in.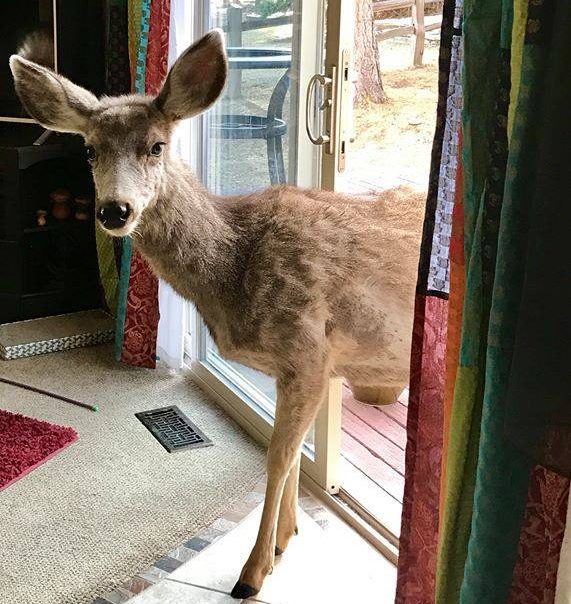 "While she is still wild and will startle easy, she does like to have her head scratch and she is fascinated with my cell phone," Jones said.
Irene isn't the only animal Jones has a special connection with. She said critters like to come around her home all the time but only Irene ever comes inside the home.
"I have been nicknamed (much to my dislike) Snow White," Jones said. "We have had bats, birds, buck deer, bob cats, bears, raccoons, coyotes … all like to come around."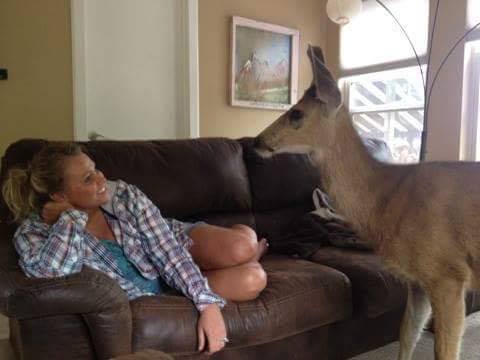 Jones has a dog and a cat, and said this spring they plan to buy a screen door now that the pup is older — and Irene won't be able to surprise them inside much longer.
But she enjoys having the animals come around.
"It's fun sharing with Facebook and the critters are always part of our annual Christmas letter," Jones said. "Now everyone who sees me will ask about Irene."