This is an archived article and the information in the article may be outdated. Please look at the time stamp on the story to see when it was last updated.
DENVER — Are you gullible? Then you might want to check out of the Internet until Saturday. April Fools' Day is in full swing; use skepticism when reading anything, whether it's in your email inbox or on social media.
Whether you love these yearly pranks or hate them, we've compiled a collection of some of the best and worst pranks on the Internet today.
The Duolingo Language Pillow
The team behind popular language-learning app Duolingo pulled a prank on its users and customers by claiming to offer a pillow that can help them learn a language overnight.
One testimonial posted on the site claims, "I went to bed only speaking English, but woke up bilingual. ¡Buenos días a todos!"
With language pillows available for Spanish, French and Italian that guarantee B1 fluency by sunrise, these pillows are definitely too good to be true, despite the fake science presented.
Check out the prank for yourself here.
The Zumba Roomba
Ever wanted to dance while vacuuming the house? Well, now you can do just that.
The Zumba Roomba is a joint project from iRobot, which created the robotic Roomba vaccuum, and Zumba Fitness; It brings the party to cleaning the house.
Google's short-lived prank
Google's April Fool prank backfired Friday, making a lot of users very angry and forcing the company to take it down early.
The company announced Thursday it was introducing a "Mic Drop" feature in Gmail, placing a new orange "Mic Drop" option next to the regular send button.
It was designed to end email chains by attaching a gif of an angry minion dropping a microphone, and effectively shutting down the conversation.
"Everyone will get your message, but that's the last you'll ever hear about it. Yes, even if folks try to respond, you won't see it," Google explained in a blog post announcing the gag.
Google traditionally rolls out fun features on April Fools' Day, leaving them live for a couple of days. Last year, the company delighted users by allowing them to turn Google Maps into Pac-Man game.
But this year's gag didn't go as planned, after a number of people accidentally clicked the button while sending professional emails.
"This is horrible — just sent an email to a client with this stupid icon on it. I can't afford these stupid pranks!," one user complained on Google's product forum.
Another user had a similar experience: "I hit this thing by accident in a professional email sending a contract. This is ridiculous and not funny at all. Remove it please!!!"
After just a few hours, Google decided to kill the feature, realizing it was not as funny as originally intended.
"Well, it looks like we pranked ourselves this year. Due to a bug, the Mic Drop feature inadvertently caused more headaches than laughs. We're truly sorry," Google said in a statement.
"The feature has been turned off. If you are still seeing it, please reload your Gmail page," Google said in the statement.
Google played more pranks that were a bit more well received, including "Google Cardboard Plastic," which allows you to "experience actual reality."
ThinkGeek.com
This online retailer of geek-themed merchandise always goes all out for April Fools' Day with a plethora of fake products you can buy. This year features a "Vertical Landing Mentos & Diet Coke Rocket" and a "Flavor of the Day" lickable desktop calendar, among many others.
You can check out their selection of fake April Fools' Day products for "sale" on ThinkGeek.com
McDonald's MmmBox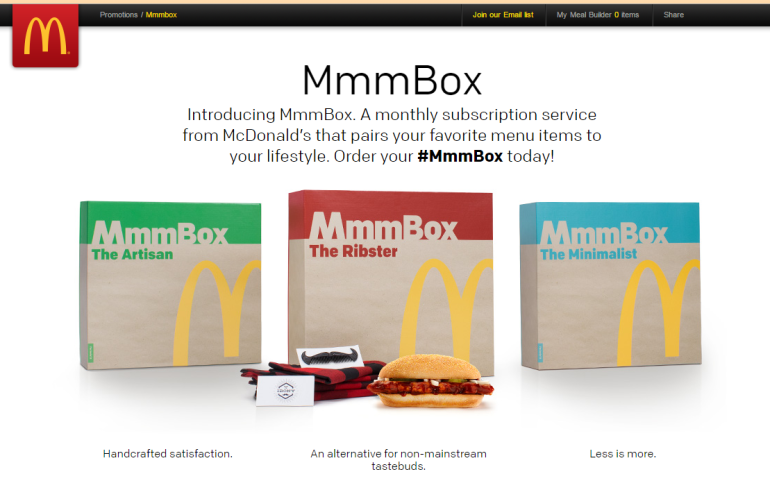 Due to a recent popularity surge of subscription box services, McDonald's came out with their own: The MmmBox.
The MmmBox is delivered to your door and comes in three different flavors, catering to your lifestyles: The Artisan, the Ribster and the Minimalist.
Check out the different boxes for a hearty laugh.
Netflix gets a makeover
And it's John Stamos themed. If you've ever wondered about the man's life, and if you have a Netflix subscription, look no further than the homepage of Netflix.com today.
A sneak peek at a documentary produced by Netflix about Stamos was featured on the homepage during a Stamos-themed April Fools' Day prank. The "Fuller House" star's face has been included all over the site.
https://twitter.com/myahmedrae11/status/715897899452751872
You can see the trailer below:
YouTube in #SnoopaVision
Video that is 360 degrees is all the rage — and YouTube has picked up on the popularity with this year's prank. Now you can watch videos with your friend Snoop Dogg, who was involved in the process and development of the feature.
For one day only, you can view videos in "SnoopaVision" by clicking the button enabled on all YouTube videos.
No more animal nudes
Scandalous! In a possible reference to PlayBoy magazine's controversial decision last year to stop publishing nude photos,  National Geographic will refuse to publish any more animal nudes.
The media outlet claims it will "no longer degrade animals by showing photos of them without clothes."
BREAKING: National Geographic will immediately stop publishing nude animal pictures. https://t.co/mFz5WzL0Mc pic.twitter.com/0voR1PMUuj

— Nat Geo Photography (@NatGeoPhotos) April 1, 2016
Clicking on the link in the tweet leads to a slideshow of photos of animals in clothes.
Teleportation a success!(?)
The U.S. Army claimed in breaking news that they were able to successfully teleport soldiers in "development [that] could change the entire course of human history." The article published references sci-fi classics "Star Trek" and "Back to the Future."
A new … old Samsung phone on the way
Your smartphone getting almost…. too smart? Samsung UK has come out with a perfect solution to that with the "Samsung Galaxy LTD," a throwback to the "good old days."
Welcome back to the good old days with the #GalaxyLTD https://t.co/053IbTDoqG pic.twitter.com/DzJUxLkqUP

— Samsung UK (@SamsungUK) April 1, 2016
"Get back to basics with our original mobile phone, re-released for a limited time only," Samsung says on their website. "The Galaxy LTD is for those who yearn for the days when tweeting was for birds, clouds stored rain & phones were for, er…calls."