This is an archived article and the information in the article may be outdated. Please look at the time stamp on the story to see when it was last updated.
SAWATCH MOUNTAIN RANGE, Colo. — Colorado climber Andrew Hamilton now holds all of the records for Nolan's 14.
Hamilton set a north-south record of 53 hours, 42 minutes when he reached Blank Cabin at 7:17 a.m. Sunday.
The record includes the 14 highest peaks of more than 14,000 feet in the Sawatch Mountain Range and covers roughly 100 miles, including 44,000 feet of climbing.
In addition, Hamilton started the north-south traverse on Mount of the Holy Cross, turning his effort into what's called "Holy Nolan's" or "Nolan's 15."
Adding Holy Cross tacks on another 30 miles. Hamilton is the only known person to complete "Holy Nolan's".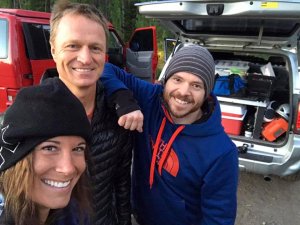 "Several times during the past three days, I told my support team, 'I don't think I'm going to finish this,'" Hamilton said. "I was thinking it is not worth the pain. With the right mindset, and a fair dose of suffering, one can push through those doubts."
Hamilton was supported by a meticulous, caring crew, including Andrea Sansone, Will Robnett, Lisa Dianne Martin, Elizabeth Stevens, Ryan Marsters and others.
"Andrew is the mentally toughest person I will ever know," Sansone said. "I love crewing for him, even through all my anxiety, and some of his self-doubts, I don't lose confidence in his abilities. I love being part of his goals and hope we can continue to encourage and inspire the community."
Added Stevens: "It is very inspirational to see someone take on a feat of amazing endurance and strength, and execute, despite challenges, doubts, and fear of failure."
Hamilton also holds the record for the south-north traverse of Nolan's 14.  He set that time in 2015 at 53:39 from Blank Cabin to the Fish Hatchery below Mount Massive. That effort was unsupported by crew.
Nolan's 14 is not a race but time is kept. The goal is to see how many of the 14 Sawatch 14er summits that can be completed in 60 hours.
Records by Matt Mahoney indicate a finishing rate of roughly 15 percent.