This is an archived article and the information in the article may be outdated. Please look at the time stamp on the story to see when it was last updated.
DENVER — If you live in Denver, you know the city is growing.
However, it's not just the suburbs that are growing larger. Denver is also growing vertically.
That growth is symbolized by the dozens of tower cranes hovering over the city.
Almost three dozen cranes are parked over the greater downtown area.
Aaron Genova calls one of those cranes his office. To get there, he has to climb up several sets of ladders, 200 feet into the air.
"I actually really enjoy the climb up in the morning. Getting the cardio in is a treat you know," he said.
Crane operators are in very high demand as cities across the western United States continue to grow at unprecedented rates.
"There seems to be urban growth all across the country right now. People want to be in the city right now and that's great," Genova said.
Many crane operators make more than $100,000 a year, and there's a good reason why.
"It can be a little lonely so if you have trouble with solitude, you don't go sit in a crane all day long," Genova said.
It's also very dangerous, especially when the wind starts to blow.
"Anyone who says they've never been scared up there is lying. There's been a few scary moments, no doubt about it," Genova said.
Tower crane operator Bill Gardner has seen just about everything from atop his perch.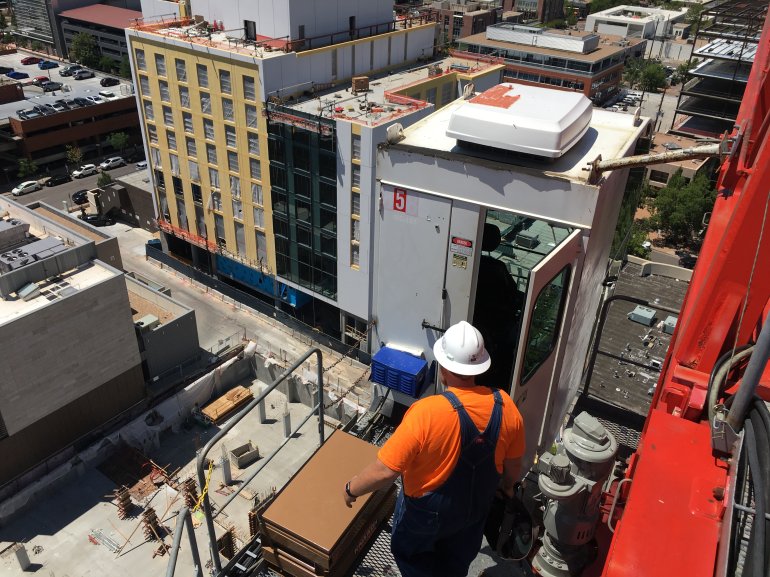 "I see the storms almost every afternoon," he said. "Four weeks ago, lightning hit three blocks away. My partner over there got on and said are you OK? Are you OK?" he said.
Stephanie Miller has a very unique perspective. She's the only female crane operator in the city. She doesn't operate a tower crane, but hopes to do so one day.
"We need more crane operators, for sure," Miller said.
Tower cranes are also in high demand. The equipment has to be booked months in advance and can cost as much as $50,000 a month to rent.
"Five years ago, you could count them on your hand. Now everywhere you look the skyline is full of them," Gardner said.
They are towers in the sky changing the city's landscape, one high-rise at a time.