This is an archived article and the information in the article may be outdated. Please look at the time stamp on the story to see when it was last updated.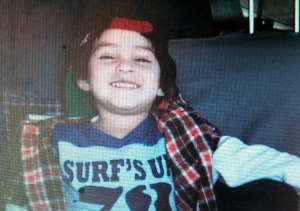 BRIGHTON, Colo. — A trip to a shopping center turned to tragedy for a Fort Lupton family.
A driver hit and killed a toddler in the parking lot at the Prairie Center shopping center at 2269 Prairie Center Parkway in Brighton.
Ricardo Rocha's family is overcome with unbearable grief by what they lost in a split-second in the parking lot.
"The kid had darted out in front of the truck and the truck hit the kid," says Robin Marvin of Brighton.
That's what several witnesses told her, who then saw the ambulance arrive.
"They were doing compressions on him. No movement and they pulled off his cowboy boots, which are still sitting over there," said Marvin.
The little boy's boots and coat lay on the asphalt next to his family's black pickup.
"Parents just arrived at the shopping center. They were getting ready to go into the store," says Brighton Police spokesperson Richard Kelly.
But they never made it inside Dick's Sporting Goods.
A driver in a white truck hit and killed their toddler. Police say he is two or three years old.
"Right now, we don't suspect anything out of the ordinary. The driver is a 25-year-old male from Houston, Texas," said Kelly. He is in the area working, according to police. His pickup has Wyoming license plates.
People who had come to shop witnessed devastation instead.
"The father and the mother and three brothers [were] there behind the ambulance. They were crying," said witness Guadalupe Chavez.
The little boy's body was inside an ambulance. Emergency workers then moved him into a coroner's van.
"Everybody needs to take care when we are driving in this area," said Chavez.
"If you are going 15-20 mph, and you've got a small child run in front of you, they don't have a prayer," said Marvin.
The boy's family returned to the place where he took his last breath Friday night.
Their pain was palpable because of their sobs that fill the air.
They left behind several bouquets of flowers and a stuffed animal.
"You can't let your guard down for a second when it comes to kids," said Kelly.
Police are investigating, but so far they don't think the driver did anything wrong.