This is an archived article and the information in the article may be outdated. Please look at the time stamp on the story to see when it was last updated.
DENVER — A third man guilty of the 2015 attempted robbery and shooting death of taxi driver Darren Bloomquist was sentenced Friday in Denver District Court, the Denver District Attorney's Office said.
Christian Willis, 20, was sentenced to 32 years in prison. He pleaded guilty in July to one count of aggravated robbery with a deadly weapon.
Willis was a 17 at the time of the deadly robbery attempt. He was arrested and charged as an adult in January.
The two other men involved previously pleaded guilty and were sentenced.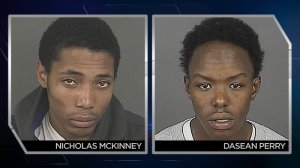 Nicholas McKinney, 19, pleaded guilty in March to one count of aggravated robbery — menace/deadly weapon and was sentenced in May to 25 years in prison.
Dasean Perry, 21, pleaded guilty in September 2016 to second-degree murder and attempted aggravated robbery, and was sentenced in December to 48 years in prison.
Bloomquist, 49, was driving a taxi on Sept. 5, 2015, when Perry, McKinney and Willis attempted to rob him. Bloomquist was shot and killed.
Perry and McKinney were originally charged with felony murder.
McKinney was the lookout in the robbery and Perry was the shooter, the district attorney's office said.
Willis made the call for a taxi as part of the scheme and was assisting in the attempted robbery with a handgun when Perry shot and killed Bloomquist, the district attorney's office said.