This is an archived article and the information in the article may be outdated. Please look at the time stamp on the story to see when it was last updated.
DENVER — The Texas college baseball coach terminated for comments he made to a Colorado high school athlete broke his silence and he isn't apologizing for the recruitment rejection email that was sent.
Texas Wesleyan coach Mike Jeffcoat told a Cherokee Trail High School student that his program isn't recruiting players from Colorado because of our state's marijuana laws.
The message was sent to Gavin Bell February 20.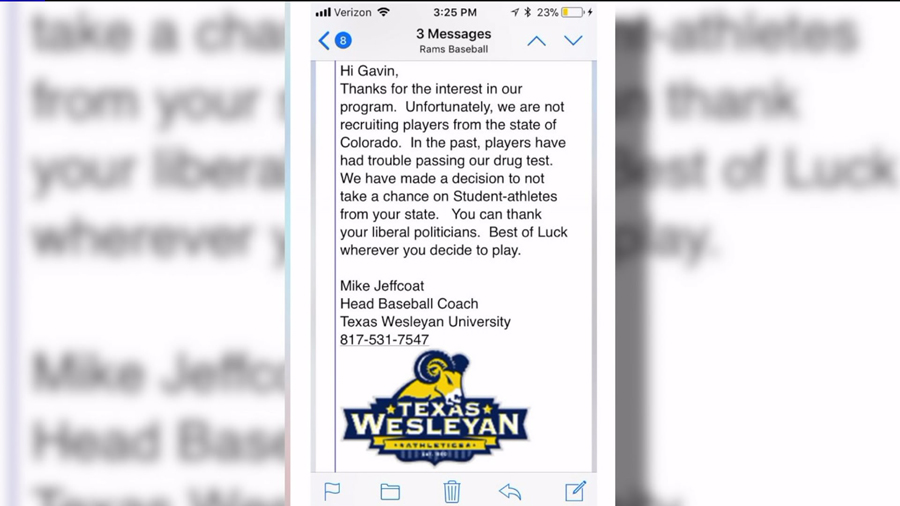 The fired coach told our sister station in Dallas, it was a factor of things that led to what he wrote in the email, but Mike Jeffcoat knows he could have handled the situation better.
"It's been hectic, it's been stressful. it's an unfortunate situation. I'm just dealing with it the best I can," he said.
The university said it fired Jeffcoat for NAIA violations and because of the comments made in the email.
"It happened just kind of a spur of the moment thing. I just remember I was rushing out of my office and just responded the way I did. Frustration from losing players in the past because of the drug test," Jeffcoat said.
Despite the strong words in the message, he said he should not have lost his job, adding that he was only exercising his right to free speech.