This is an archived article and the information in the article may be outdated. Please look at the time stamp on the story to see when it was last updated.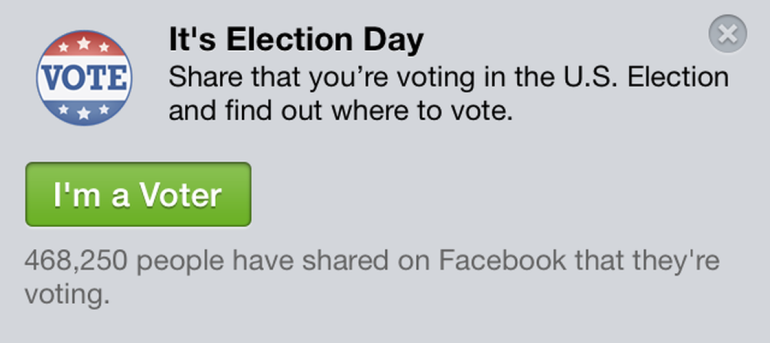 DENVER — Did you see a graphic on Facebook nudging you to vote on Tuesday? Did you assume it was just another way the social network is encouraging users to interact with each other?
Well, it is. But it's also a social experiment that could have major implications for the future of the electoral process.
Facebook ran a similar "get out the vote" campaign in 2010, NPR reported. In that case, researchers found that users were 0.39 percent more likely to vote if Facebook told them that their friends were also going to the polls.
That may not sound like much of a change, but the researchers concluded that the campaign "directly mobilized" 60,000 voters, while the viral ripple effect reached up to 340,000.
While the results are hardly bulletproof (the researchers had no way of knowing how many people were already planning to vote on Election Day before they saw the graphic), clearly there's some sort of impact. And while this is great news for political strategists of all stripes who have been wondering for decades how to maximize turnout at the last minute, not everyone is thrilled.
Although there's no evidence that Facebook targeted one political party or another — and since the 2010 effort was supposed to be an unbiased scientific study, that seems unlikely —  the New Republic fretted that the company could swing future elections by only encouraging voters whose politics line up with Mark Zuckerberg's to vote.
Another, possibly more likely, scenario: What if Facebook decided to use the "I'm a Voter" app as a form of political advertising, helping only the candidates who paid for the service?
Speculation aside, there are other problems with the campaign, writer Micah Sifry argued in Mother Jones. "I'm a Voter," like other recent Facebook experiments, should not be happening at all without users' consent, he said. He openly accuses Facebook of "messing with" users, and seems dismissive of the company's assurances that they aren't doing anything unethical.
"The message: Facebook wants its users to vote, and the social-networking firm will not be manipulating its voter promotion effort for research purposes," Sifry writes. "How do we know this? Only because Facebook says so."