This is an archived article and the information in the article may be outdated. Please look at the time stamp on the story to see when it was last updated.
Traveling can be overwhelming, especially if you have kids in tow.  Technology to the rescue!  I checked out a few gadgets that can help make travel a little easier.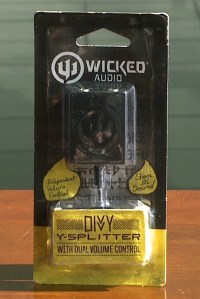 Headphone splitters are nothing new but if you have ever used one, you know how annoying volume control can be.  Inevitably one person's headphones are louder than the other.  Wicked Audio is solving that problem with the Divvy Y-Splitter.  For $10 it can split the audio from a smartphone or tablet and each person will get their own volume control.  It's not battery powered so it doesn't amplify but it will allow one person to lower the volume if it's too loud.  This is perfect for the kids when they're watching a movie on the iPad and you don't want to hear it.  The price is right and to volume control is simple.
The Divvy Y-Splitter is $9.99 and should be available in stores and online soon.
Keeping all of those gadgets charged while on-the-go is not an easy task.  The Tyle Energi+ Backpack is a backpack designed for your smartphone, tablet and laptop with a battery pack built-in.  You can charge up to 3 devices at the same time.  It has 2 1Amp USB ports for your smartphones and 1 2.1Amp for your tablet.  The company claims the battery has enough juice for 4 full smartphone charges or 1 full tablet charge.  When the battery pack is dead just plug it in and charge it back up.
The Energi+ backpack is true pocket mania!  There are a total of 13 pockets, perfect for the traveler with a million gadgets and cables to go with them.  There is a smartphone compartment, a tablet sleeve and a slide in section for a full laptop.
The 10,400 mAh battery is great for providing you with extra juice but remember, it adds weight.  The battery is removable for those days when you need the backpack but you don't need the extra power.
Power on the go doesn't come cheap.  The Tylt Energi+ Backpack retails for $200 but I found it on Amazon.com for $70 off!