This is an archived article and the information in the article may be outdated. Please look at the time stamp on the story to see when it was last updated.
For most of us the light bulbs in our home are as basic as technology gets.  Turn it on, turn it off.  Philips is changing the way we think about light bulbs with the hue personal wireless lighting system.  Change the color and brightness, automate your bulbs or program them based on your life.  It's impressive stuff and I have a chance to test out the hue starter kit.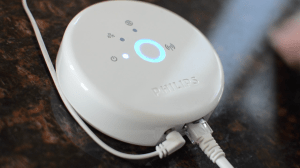 What's in the box?
The Philips hue starter kit sells for $200 and includes 3 hue bulbs and the hue bridge.  The bridge is a device that plugs into your home network and communicates with the light bulbs.  Setup is super simple.  Screw the bulbs into your existing light sockets and then plug the bridge into your network.  When you load up the hue app on your iPhone or Android device it automatically recognizes the bridge which, in turn, automatically recognizes all of the bulbs on your home.  I was impressed that Philips took something that is probably pretty complicated and made setup so simple out of the box.  I was up and running in minutes.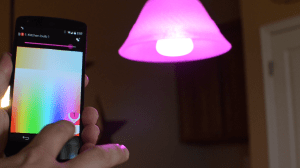 Changing colors
Of course the hue bulbs turn on and off like any other light bulb.  Load up the app and you can change the color and brightness of each bulb individually or a group of bulbs at the same time.  You can also turn the bulbs on and off from the app.  The hue app has scenes that you can use to customize the bulb colors and brightness.  For example there is a reading scene, a concentration scene and an energize scene to name a few.  You can also create your own scenes.  It's essentially a preset for all of your bulbs.  You could create  a Christmas scene where the bulbs turn red and green.
Wake me up!
You can also use the hue app to setup timers and alarms.  Your hue bulbs can automatically turn on when it's time to wake up and turn off when you leave for work.  You can select the color and brightness for your alarms too.  It's simple to setup and works as expected.  The only thing to remember is that a light on a switch won't work if that light switch is turned off.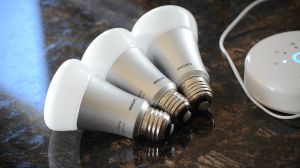 To infinity and beyond
The best part about the Philips hue system is that you can connect it to other apps.  A site called IFTTT.com lets you create "recipes" that automate your hue bulbs.  For example, you can setup a bulb to change color based on the temperature outside.  You can have a bulb blink if you get a new e-mail.  I even set-up my bulbs to turn off when I sent a text message with a certain hashtag.  Yes, you can now text your light bulbs!  The possibilities are nearly endless since you can create your own recipes and connect your hue bulb to other services and devices uses IFTTT.
Conclusion
There are other smart light bulbs on the market but the Philips hue system is easily the best one I've tried yet.  They all change color and change brightness but the Philips system goes above and beyond by connecting to other apps and services outside of the Philips app.  If the hue doesn't do what you want it to do, chances are you can find another app or service that will let you do it.  I will admit, I thought making the light bulb "smart" seemed a little silly.  After using the hue for a few days, I'm a believer.  There are a lot of cool ways that these light bulbs can help streamline our lives.  If the bulb is blue, for example, it could tell us that snow is in the forecast today.  If the bulb is green it could indicate that you have an unread e-mail from your boss in your inbox.  That's cool!  My only hope is that the price comes down as the technology grows.  At $200 for the starter kit, it's a bit too pricey for many of us.
The Philips hue personal wireless lighting system is available right now.  You can find more information at meethue.com.