This is an archived article and the information in the article may be outdated. Please look at the time stamp on the story to see when it was last updated.
Boogie Board is reinventing the paper and pencil, I've reviewed their LCD pads in the past but the newest model puts a kid spin on it.  My kids LOVE the original Boogie Boards (I reviewed a few of them last year) so this makes perfect sense.  The Play N' Trace has the same LCD screen but the difference here is that it's transparent.  Perfect for kids to trace letters, numbers and pictures!
The Play N' Trace is designed to look like a painter's palette with bright colors.  The button on the top clears the screen.  There are two AAA replaceable batteries but the companies says it'll go for 5 years before they need to be replaced!
3 tracing cards, letters and numbers, are included in the box.  The company sells additional sets.  There is also a free iPad app that you place behind the Play N' Trace.  This is a fun way to use the Play N' Trace to connect the dots and play games.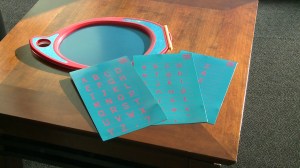 If I had any complaints about the new Play N' Trace it's that the stylus doesn't stay put in the slot as well as it should.  I'm worried it would be pretty easy to lose it.  That's minor but something to keep in mind if your kids like to lose things like mine!
I love the original Boogie Board and so do my kids.  The Play N' Trace kicks it up a notch.  It's a perfect toy for kids to learn letters, numbers and words and to encourage their artistic abilities.
The Boogie Board Plan N' Trace is $35 but I found it on sale for only $25 at Amazon!