This is an archived article and the information in the article may be outdated. Please look at the time stamp on the story to see when it was last updated.
With 300 days of sunshine in Colorado (I know that may not be totally true but we he have tons of sun!) why not harness that power to charge your phone?
The Waterproof Solar Power Bank from EverythingTechGear.com is a solar panel and battery in one.  You'll need to charge it up from a standard USB charger initially but after that you can keep it juiced using the sun.  It has 2 USB ports so you can charge 2 smartphones at the same time.  It's rated at 12,000 mAh which means you should be able to get a handful of charges to your phone before you need to charge it back up.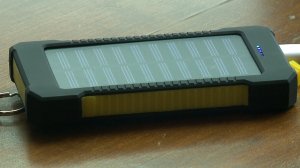 It's a great little battery pack to carry with you on a Colorado hike.  Attach it to your backpack so it re-charges while you're hiking and then you're ready to give your phone a juice-up when you get to your campsite.
I do want to point out that the plastic clip on the back is super thin and broke off within 30 minutes of me testing out the battery.  It doesn't impact the battery itself but hopefully they can work to make this clip stronger.  I would hate to see someone lose the battery off their backpack because of the clip.
At $39 the solar battery from EverythingTechGear.com is a great option for anyone who loves the outdoors in Colorado but wants to have a way to re-charge their battery no matter where they are.
I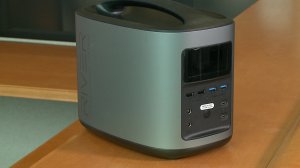 f that small battery isn't nearly enough for you, how about something that can power your entire campsite?  The EcoFlow River Mobile Power Station is a beast of a battery back-up!  You know when it has a handle built-in simply because it's THAT heavy, you're not messing around.
Plugged into the wall this thing takes about 6 hours to fully charge.  Once charged, the company says it can hold that charge for an entire year.  You'll find USB, AC and DC plugs on the River.  It's ready to charge any device with any plug you throw at it.  The screen on the face of the River shows your current battery level as well as how much "current" you're currently using.  The River has enough battery power to charge your smartphone 30 or more times!  The company says it can even run a refrigerator for 10 hours.
The River from EcoFlow would be a great option for anyone who has a camper and wants to have some back-up power.  It can also be used as an emergency power source for your home.  Similar to a generator but without the gas.  Sure, it will eventually die but it has enough capacity to get you through most emergency situations.
This kind of battery power doesn't come cheap.  The River from EcoFlow is $700 and is sold at Home Depot and Camping World.