This is an archived article and the information in the article may be outdated. Please look at the time stamp on the story to see when it was last updated.
Bluetooth speakers are a dime a dozen these days.  Most people have one, many of us have more than one.  They're a great way to wirelessly crank the tunes from your phone.  Sometimes, a bluetooth speaker comes along that does more than what we expect.  That's the case with the Sbode M400 Bluetooth speaker that I took for a test.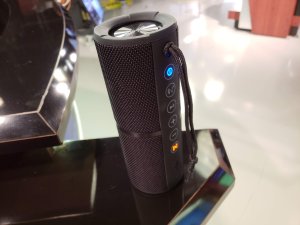 Hardware
On the outside the Sbode M400 looks like your typical "tube" style speaker.  There are buttons along the side and mini speaker drivers on each end.  You can actually see the drivers vibrating when you play music.  The M400, like many other speakers these days, is water resistant.  I wouldn't dunk this thing in water but it is designed to with stand a splash at the pool or some snow in the winter.
Two Speakers That Connect
The Sbode M400 can also pair with another M400 to double the sound and give you full stereo sound.  In my testing, the process was super simple to connect the two speakers.  Once two speakers are paired they will re-connect to each other whenever you turn them on.  It's seamless and just works.  Which is nice!
Oh Wait, There's More!
The cool thing about the M400 that sets these speakers apart from most other Bluetooth speakers is that they can play your tunes even when you don't have a phone.  You can insert a micro-SD card with MP3 files on it and play music directly off that card.  You can also turn on FM radio mode!  This is a great option to have for emergencies or to listen to the Broncos on a Sunday when you can't be in front of a TV.
I love that these speakers work without a phone!  In Colorado it's pretty common for people to head up to the mountains without their phone or without service for streaming music.  The M400 will keep on rocking even when you're disconnected.
Sound Quality
It's good!  Impressive for the price.  The sound is loud, especially with 2 speakers paired together.  The music sounded crisp even when turned all the way up.  My only complaint is that it doesn't do great at pumping the bass.  This isn't uncommon with smaller speakers but it's too bad considering the speaker does such a good job at everything else.  That's not to say it didn't sound good, it just didn't pound the bass in some songs that I tested out.
Conclusion
For the price, the Sbode M400 is a solid bluetooth speaker option!  It comes with features that you won't find on most other bluetooth speakers.  If you like to disconnect from the world and leave your phone at home this is a great option for taking your music with you.  Even without those features it's still a solid bluetooth speaker that sounds good, looks good and will resist the elements here in Colorado.
The Sbode M400 is sold through Amazon for $45 and currently has a $4 Off coupon attached to it too!  That makes it $41 for one speaker or $82 for a pair.