This is an archived article and the information in the article may be outdated. Please look at the time stamp on the story to see when it was last updated.
Who would have thought – in 2018 – that we'd be talking about the Blackberry?  Again!  The brand that refuses to give up is back with a new version of their Blackberry Key Android smartphone (I reviewed the KeyONE last year).  I've had a few weeks to put the new Blackberry Key2 to the test.
Hardware
The Key2 looks a lot like the KeyOne… only better.  The Key2 has a nice rubberized back.  There is a 12 Megapixel dual camera and LED flash on the back.  On the front you'll find a 4:3 screen.  In these widescreen days it may seem out of place but they had to leave room for the quintessential Blackberry keyboard!  The company says they made the keys larger this time than the KeyOne.  It's an easy to use keyboard that feels great and brings back memories of why we loved those Blackberry keyboards so much back in the 2000's.  The spacebar doubles as the fingerprint scanner.
On the side you'll find a volume up/down rocker, a power button and what Blackberry calls the convenience key.  It's a quick key that helps you quickly launch your favorite apps or shortcuts.  Hit the key and 3 icons pop up on the right side of the screen so you can launch an app or call you bestie.
With that rubber back and gorilla glass covering the screen on the front the chassis of the phone is aluminum alloy.  This thing feels rock solid and a million times more svelte than the KeyOne.  Blackberry did a great job of refining what worked and making it better.
Software
The best thing Blackberry has done in the past decade is make a switch to Android.  Blackberry OS was struggling and they had no option but to join the crowd of Android phone-makers.  Blackberry managed to do this while maintaining their Blackberry flair.  Sure, it's Android (8.1 at launch) at the core but Blackberry has added software features that make it unique.
I already mentioned the convenience key, it's a great software touch.  A hardware button that gives you quick access to your 3 favorite apps or shortcuts.  It's simple to setup and just works.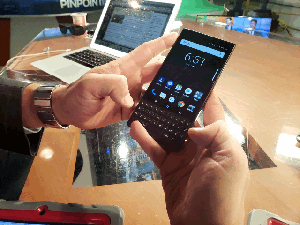 Blackberry added keyboard shortcuts this time around that are simply awesome.  Hit the "speed key" along with any letter key on the keyboard and you can define a shortcut.  Speed Key+C to launch Chrome.  Speed Key+E to launch your e-mail app.  Speed Key+W to call my wife.  Those are mine but you can set them up however you wish.  It's a GREAT use of having a hardware keyboard.  Jumping between apps is quick and seamless on the Key2 with this feature.
There's also a little tray on the right side of the screen that you can slide out for quick access to your calendar, e-mail, tasks, contacts and other app shortcuts.  This a reminiscent of the way Blackberry used to hub your info back in the Blackberry OS days.  Personally, I didn't find myself using this tray very often.  As an Android guy, I'm used to jumping into my apps or using notifications to access my e-mail and texts.
Privacy and security still at the forefront
Blackberry has always been known for their privacy and security features and the company wants to maintain that reputation despite the switch to Android.  Businesses love this stuff.  Blackberry claims this is the most secure Android phone on the market.  You'll find a few apps that tailor specifically to this strength including Locker Private Zone, Privacy Shade, Password Keeper and Redactor.  These are great for business professionals but most typical consumers won't find themselves using these features daily.
I do like a new feature in the camera that app that lets you snap a picture with the fingerprint sensor instead of the shutter button.  This automatically puts those pictures into a private folder that won't be synced with the cloud.  In a day and age when so many of us use our phones to scan financial documents or sensitive work paperwork, this is a great way to quickly keep those pictures private.
Battery For Days
Those privacy and security features clearly show that this Blackberry, like so many before, is clearly focused on business users.  Another feature that speaks to that is a battery that Blackberry claims can last 2 days!  In my testing, I definitely got more than 1 day out of the battery.  It's nice to use a phone that doesn't need to be charged multiple times throughout the day and if you're on the road this could be a game-changer.
So – time to switch to Blackberry again?
I like the new Blackberry Key2.  I really do!  In fact, I think it's safe to say this is the best from Blackberry that we've seen in years.  They did a great job of making Android better without ruining what makes Android great in the first place.  They did a great job of adding security features that will please business users.  They did a great job of using the keyboard and convenience key to make switching between apps, sending texts and making calls as fast as humanly possible.  They simply did a great job with the Key2.
The larger question is: Do we need a hardware keyboard in 2018?  That's a tough one.  Software keyboards have gotten SO much better in the past few years as screens have grown, making them easier to use.  None the less, using this Blackberry for the past few weeks makes me miss having a hardware keyboard.  Blackberry also did enough to create added value with the shortcut keys, fingerprint scanner in the spacebar and the gesture navigation by lightly swiping over the keys.
If you're looking to go back to a hardware keyboard – this is the best option on the market.  The security features, 2 day battery, great-looking screen and better than ever before keyboard make it a solid Android choice.
The Blackberry Key2 is available July 13th directly, pre-orders at Amazon and Best Buy begin June 29th.  The Key2 is a GSM unlocked phone that will work with T-Mobile and AT&T.