This is an archived article and the information in the article may be outdated. Please look at the time stamp on the story to see when it was last updated.
When Apple introduced the AirPods, people were stunned.  Where is the battery?  How are they so small?  They were some of the first major brand bluetooth headphones to maintain a normal earbud size and go completely wireless.  It didn't make up for Apple removing the headphone jack from the iPhone (yup, still angry) but it was a cool consultation prize.   Problem is, at $160, many of us simply can't afford to drop that much money for a set of fancy earbuds.  Luckily, less expensive options are popping up on the market.  Funkl is a new company that's working to make a name for itself by going head to head with the AirPods at a fraction of the cost.  Their Inidiegogo campaign just launched and I was able to get my hands on pre-production versions of their 2 earbuds to test out.
Funcl W1
The first option is the W1.  It's an uber affordable set of wireless bluetooth earbuds.  They come in a small white carrying case that is also their charging base.  Once charged the company promises 4.5 hours of battery life on a single charge.  The case holds a charge too.  This means you can pop them back in the case to charge them back up even when the case isn't plugged in.  In all, you'll get 18 hours of battery life with the charging case.    It uses Bluetooth 5.0 to provide a stable, low power bluetooth connection.  On the side is a touch sensative button that works to power on/off the headphones and control your music and phone calls.  They're also water resistant with an IPX5 rating.  While you can't take them swimming, they will hold up to sweat or a jog on a rainy day.
In my limited testing I was pretty impressed with the W1.  Sure, they don't sound like $200 earbuds but they sound a lot better than I expected for the price.  My only complain is the lack of bass response but that's almost to be expected from an earbud that is this small.  At only $19 on the Inidiegogo site you can't go wrong with these tiny little earbuds.  They fit tight in my ears, sounded pretty good and are cheaper than almost any wireless earbud I've seen before.
You can buy the Funcl W1 on their Indiegogo page.  They go into production in November and will ship in December.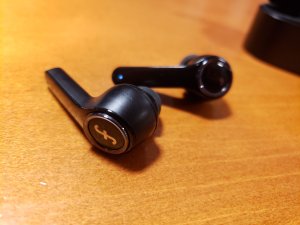 Funcl AI
If you're willing to pay a little more, Funcl offers the Funcl AI wireless earbuds.  These look a lot more like the Apple AirPods but they also pack better tech on the inside.  First of all, you get a longer better life with 24 hours of battery life when used with the charger carrying case.  The AI also uses a better bluetooth chip providing Aptx technology.  This means it has lower latency (the company promises 60ms) so it's a better option for gamers.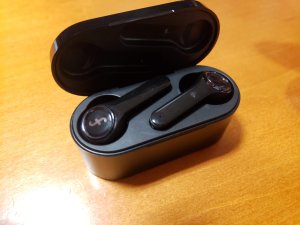 From a sound standpoint I felt like the W1 sounded better.  Mostly because the design of the W1 fit snugger in my ear.  With that said, both of the demo units I tested are "pre-production" units.  Also, AptX may be a "must-have" for some people, especially those using these buds for gaming.
I like the look, most people will think they are AirPods.  I also like that they come in Black or White.  The normal price on the Indiegogo is $54 but the company gave us a link to get you $5 off that price.  At $49 these things are a solid deal and you could buy 3 sets of them for the price of Apple's AirPods.  Are they as good as AirPods?  No.  Not in my testing.  The sound just isn't quite as good.  But, I also refuse to pay $160 for earbuds.  If you're like me, these may be a great option.