This is an archived article and the information in the article may be outdated. Please look at the time stamp on the story to see when it was last updated.
We all have those tech heads in our life who seem to have absolutely everything.  They can be very tough to buy for.  Here are a few tech gifts that won't break that bank that might be the perfect gift this year.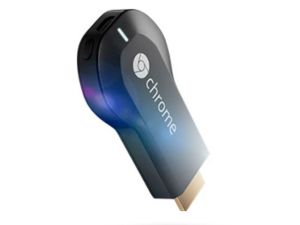 Google Chromecast – $35
When Google Chromecast launched earlier this year, it was sold out for weeks.  Now, it's in full supply and should be a hit for the holidays.  The price is right and it's a simple way to connect your smartphone or tablet to your TV.  It's not designed to "mirror" your smartphone, instead it transfers the stream from your device to your TV.  For example, you can load up a Netflix stream on your phone and then move that stream over to your TV with Chromecast.
Check out my full write-up about the Chromecast from July.  Google Chromecast is available in stores an online for $35.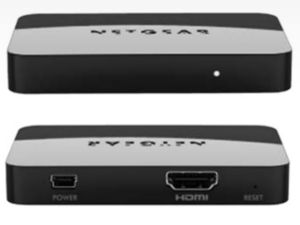 Netgear Push2TV (PTV3000) – $70
If you'd rather mirror exactly what is on  your smartphone on your TV screen, the Netgear Push2TV (PTV3000) might be a better option.  It uses a protocol called Miracast.  Plug the small black box into your HDMI port and then activate Wireless Display on your Android smartphone, tablet or Windows PC.  Push2TV will display on your TV exactly what you see on your device.
In my tests, video didn't work great.  It glitched at times and the audio wasn't perfect.  None the less, it looked great when browsing the web or looking at photos.  If video isn't your forte but you'd like to share your smartphone or tablet screen with the family, Push2TV is a great option.
Push2TV is available for $60 but is only compatible with certain smartphones, tablets and PCs so check the compatibility list before you buy.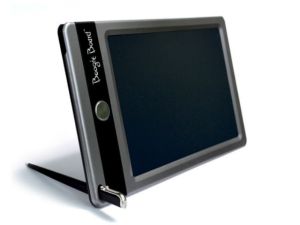 Improv Electronics Boogie Board Jot 8.5″ – $40
When old school technology meets new school technology, you get the Boogie Board Jot.  The company calls it an ewriter.  It uses screen technology similar to an ereader but you can write on it with a stylus.  This means, you can see it great indoors or outdoors and it never turns off.  Your notes always stay on the screen.  You can lock that image in with the slider on the side or erase it and start over with the button on the top.
Stick the stylus in the kickstand slot to stand the Boogie Board up on a desktop.  You can also use the magnets in the back to stick it to a refrigerator.
The Boogie Board is great for people who like to have a scrap sheet of paper on their desk but rarely keep those notes.  It's also a great gift for kids who like to doodle or parents who want to replace that messy family whiteboard.
I'd be remiss if I didn't point out that the Boogie Board is created by a company in Ohio in coordination with my Alma mater, Kent State University (GO FLASHES!)
The Boogie Board Jot 8.5″ retails for $40 but I found it for less on Amazon.  They also sell a smaller version 4.5″ model that is just $20.