This is an archived article and the information in the article may be outdated. Please look at the time stamp on the story to see when it was last updated.
LONE TREE, Colo. – More than 1,000 people lined up outside Park Meadows Mall in the cold on Thursday just to get a chance to preorder the new Tesla Model 3.
The vehicle was unveiled late Thursday night, but long before, people all over the country were putting down a $1,000 down payment.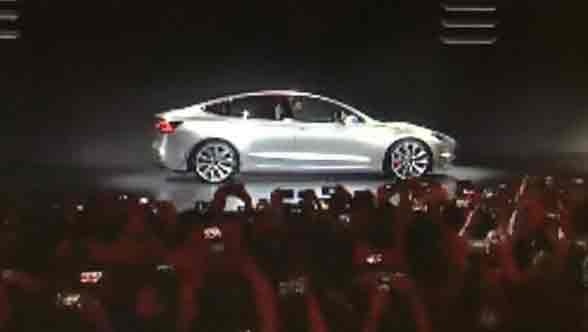 "I think it's an investment in the future," said Don Bailey, who drove from Colorado Springs with his wife.
The price tag on the electric car is around $35,000, less than half the price of Tesla's current cheapest model.
Since it runs on electricity, the Model 3 is expected to have a 200-mile driving range. Tesla CEO Elon Musk wanted to create an economic vehicle that would be affordable to the average consumer.
"And this is with zero advertising. I think this is exciting for Tesla as a company," said Nick Peterson, who also waited outside Park Meadows.
Tesla hasn't purchased any traditional advertising for its new model. Instead, it was mostly talked about online and word of mouth.
The lines outside Park Meadows and other Tesla showrooms across the country looked similar to opening night lines for "Star Wars" movies and the debut of new iPhones.
"This is a car that's truly going to change the industry," said Neb Asfaw, who waited several hours.
The vehicle won't be available until the 2017-18 year. The $1,000 down payment guarantees an individual a vehicle as soon as it comes out.
People could reserve the Model 3 in person at a showroom or online.
Tesla planned to release additional information about the car on its website later Thursday.