This is an archived article and the information in the article may be outdated. Please look at the time stamp on the story to see when it was last updated.
For years Apple TV has been a so-called "hobby" for Apple.  Now, that hobby is going prime time.  The newest Apple TV is the best yet and offers a whole lot more than ever before.  I took it for a test.
Hardware
The box itself looks a lot like the previous Apple TV.  It's a bit thicker but is still that classic black with a sleek Apple logo on top.  It connects to your TV via HDMI.  You can use Wi-Fi or an ethernet connection to hook your Apple TV to the internet.
New Remote
The new hardware magic is in the re-designed Apple TV remote control.  It has 6 buttons and a touch trackpad at the top.  The trackpad also has a "click" if you press it in.  This changes the way you interact with the Apple TV.  I found it easy and quick to get used to.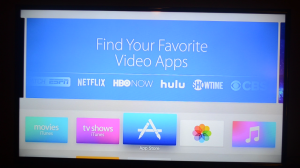 Entirely new interface
The home screen and interface of Apple TV looks similar but has been redesigned.  The biggest difference is that you now have access to the App Store.  This means you can find apps and games to add to your Apple TV.  Apple TV users have been asking for apps for years.  This opens up the door for a lot of possibilities on the new Apple TV.
The new interface looks fresh and clean.  Some might call it bubbly.  None the less, it's very "Appley."  The icons flow as you move your finger over the trackpad.  The blips even track to the left and right as you move across the screen in that direction.  These are the typical Apple touches that only Apple seems to master.  It's downright elegant.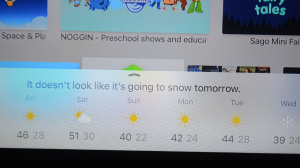 Hello Siri
The microphone on the new remote introduces Siri to your TV.  Hold down the microphone button and speak to your Apple TV.  You can ask for movies and music, by saying things like "Find movies with Jack Black."  You can also ask for things like weather conditions, stock prices and sports schedules.   It's not as in-depth as Siri on your iPhone but it's getting there.
Get Your Game On!
A big part of the new Apple TV is gaming thanks to the new App Store.  The new remote has motion sensors so you can use it to control games just like you would control games on an iPhone.  Tilt it left and right to steer things on-screen.  There are also games that use the remote similar to a Nintendo Wii.  I was playing bowling and it worked great.
The graphics are impressive.  Apple TV packs a 64-bit A8 processor which seems to pack a whole bunch of graphics power.  Sure, it's no Xbox or Playstation but for those of us who don't want to drop $300-$400 on a high-end gaming system, this is a great alternative.  You can also connect a Bluetooth gaming controller if you prefer to use traditional gaming controls.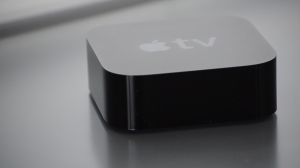 Overall
The new Apple TV is everything we wanted the previous Apple TV to be and more!  The rumored streaming cable service hasn't come to fruition but this is still the best Apple TV box yet… by far!  If you don't care about gaming and you're not an "Apple person" you could easily get away with a cheaper Fire TV box or Roku.  Otherwise, this is the best of the best.  The new remote is on point and the App Store is everything we hoped it would be on the Apple TV.
The new Apple TV is $149.  It's very difficult to get discounts on Apple products but I did find it on sale at Staples for $139.