This is an archived article and the information in the article may be outdated. Please look at the time stamp on the story to see when it was last updated.
We're told all the time to put our phones down while driving.  We all know it's NOT safe!  Problem is, there isn't a great alternative.  There's no easy way to see our maps or notifications without picking up the phone.  Enter Hudly!  A company that wants to put a heads-up display in your car.  I took it for a test drive.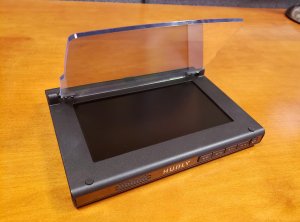 Hardware
The Hudly is basically a screen that lays flat on your dashboard and has a clear reflective piece of plastic angled at about 45 degrees.  In that angled glass you can see the screen.  It appears to float in you peripheral vision.  It's a heads-up display!
The screen has has a speaker built-in as well.  On the front you'll find a power button, volume and brightness adjustments.  On the back there is a mini-USB power port.  On the bottom of the screen is an HDMI port and an audio-out jack.
Connecting to the screen
The Hudly uses standard wi-fi wireless screen sharing.  The nice thing is that wi-fi screen mirroring is device agnostic.  It'll work with both Android and iOS devices or even a Windows computer.  On my Samsung phone it took just 2 taps to connect my phone's screen to the Hudly.  Once connected, it simply mirrored what was on my phone's screen.
Any app in the Hudly
Since the Hudly uses screen mirroring you can use any app on the Hudly heads-up display.  It works great with Google Maps, Google Music or any app that works well in horizontal mode.  The screen, afterall, is designed for horizontal use.
Hudly App
The Hudly hardware is cool but what really makes it sing is the Hudly app.  It's a very simple interface that allows you to select between showing map navigation, auto gauges (using a connected OBD2 device), a road speedometer or music controls.  The navigation option is fantastic.  It creates a monotone navigation display that is simple for quick viewing and has great contrast so it shows up well in the Hudly display.  You can add a destination and Hudly helps you get there.  The road speedometer is about as simple as it gets, providing a basic display of your current speed.  The music controls are simple but felt a little crude.  Overall, the navigation option is where you'll spend 95% of your time and it's clearly what the developers spent most of their time on.  It's exactly what it needs to be.
Conclusion
In the end, I like the Hudly but there is clearly still work that needs to be done.  The hardware could be slimmer and sleeker and the app does a great job but secondary options feel a bit unfinished.  None the less, if you're looking for a heads-up display in your car this is going to be among your best options.  Hudly sells for $300 and is available right now from their website or from Amazon.com.