This is an archived article and the information in the article may be outdated. Please look at the time stamp on the story to see when it was last updated.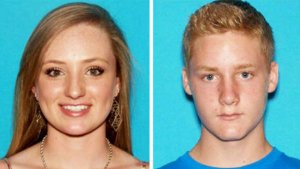 FORT COLLINS, Colo. — A Berthoud teenager was convicted Wednesday of first-degree murder after deliberation, felony murder and kidnapping in the shooting death of his ex-girlfriend and rodeo queen, Ashley Doolittle.
Tanner Flores, 19, will spend the rest of his life in prison without the possibility of parole after the jury determined the murder was predetermined. He will be sentenced Thursday.
Flores was accused of kidnapping and fatally shooing the then-18-year-old Doolittle while driving on Larimer County Road 21 between County Road 16 and County Road 16E on June 9, 2016.
Flores then was accused of driving Doolittle's body to a family-owned property in Collbran on the Western Slope.
According to an arrest affidavit, Flores shot Doolittle multiple times in the head and was found with Doolittle's blanket-wrapped body in the cab of his truck at the Mesa County property.
Doolittle lived in Loveland and graduated from Berthoud High School in May 2016. Investigators said she ended her relationship with Flores a few weeks before her death.
Flores was reportedly "distraught" because of the recent breakup with Doolittle.
Doolittle was posthumously crowned rodeo queen at the Boulder County Fair a month after her death.
The trial lasted more than a week, and included testimony by Doolittle's friends and family members, as well as experts and investigators.
Prosecutors argued that Flores was a jealous ex-boyfriend who planned to kill Doolittle, saying he took his father's gun and compelled Doolittle to meet him at Lon Hagler Reservoir and get into his truck, after which he repeatedly shot her.
The defense argued Flores was overcome with emotion and upset with the break-up when he shot Doolittle, but that it was hasty and not planned.
On Monday, Flores took the stand on his own behalf for more than three hours. He admitted to the jury that he shot Doolittle, but he denied it was planned.
"Part of me just can't really describe it," he testified. "It wasn't an intentional thing. It was just something that happened."
The jury deliberated Tuesday afternoon and Wednesday morning before returning the verdicts.
The Eighth Judicial District Attorney's Office earlier announced it would not seek the death penalty in the case.