This is an archived article and the information in the article may be outdated. Please look at the time stamp on the story to see when it was last updated.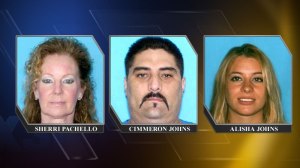 THORNTON, Colo. — A day after two Weld County women went missing, authorities think they have found their kidnapper dead in a Thornton apartment.
Saturday morning, a SWAT team entered a residence at the Bravado Viewpoint Apartments on Ura Lane where they believed Cimmeron Johns, 37, was hiding.
Johns is believed to have kidnapped his estranged wife Alisha, 36, and her mother, Sherri Pachello, 56, Thursday night.
Friday morning, deputies with the Weld County Sheriff's Office found two bodies in a remote part of Weld County south of Dacono.  Deputies "have presumptively been identified" the bodies as Pachello and Alisha Johns, the sheriff's office said.
After a day-long manhunt, police in Thornton found a gold SUV believed to belong to Pachello.
Police received a report that a homicide suspect was inside an apartment in the neighborhood.
"Officers did receive information that the suspect in this investigation was potentially inside a residence in that area," a police spokesman said. "As officers were investigating, there was a report that shots were fired by the suspect and officers had returned fire."
Police evacuated residents around the apartment.
Police said they thought Cimmeron John's was still inside and alive in the apartment. They tried contacting him, but were unsuccessful, police said.
Saturday morning a SWAT team used gas and entered the apartment. Inside they found  a dead man, police said.
Police did not say how the man died and have not positively identified him either.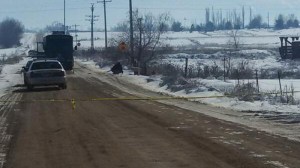 Altercation Thursday night started chain of events
Weld County Sheriff's Office Bureau Chief Steve Reams said the search for the missing women began at about 10 p.m. Thursday when deputies were alerted to a possible kidnapping.
"Sherri Pachello called to report to her husband that she was being chased by a dark colored car after she had been out trying to locate her daughter," Reams says. "Sheriff's Deputies immediately began canvassing the Frederick, Colo. area — Sherri's last known location."
Pachello had driven to get her daughter, Alisha Johns, from a home in Frederick. Alisha Johns went to visit her estranged husband, Cimmeron Johns at the home, Reams said.
Deputies found an abandoned 1992 Mercedes that appeared to have been in a crash near Frederick. They believe that was the suspect's vehicle, Reams said.
"It is believed that the suspect abandoned his car and took control of the vehicle that Sherri and Alisha were driving after they slid off the road and their vehicle became temporarily inoperable," Reams said.
Deputies searched for the two missing women and the suspect all night without success.  Friday morning a surveyor found the first body around 11 a.m. in a irrigation ditch, Reams said. It was found at Weld County Roads 4 and 17.
The second body was found on WCR 15 between WCR 2 and 4 around 1:30 p.m.
The bodies had been removed by late Friday afternoon.