This is an archived article and the information in the article may be outdated. Please look at the time stamp on the story to see when it was last updated.
ARVADA, Colo. – The Arvada Police Department is asking for the public's help in identifying several people accused of burglarizing a liquor store.
Police say it happened on June 30 at Paradise Liquors on Wadsworth Boulevard.
Surveillance video shows a brown or maroon F-250 drive through the front of the building. Several people were seen on camera jumping out of the truck and burglarizing the store.
The thieves stole alcohol, butane gas, and other items, according to police. The suspects then jumped into another truck. Police say it was a black or dark blue Chevrolet Silverado with what appears to  be a hard top bed cover and silver rims.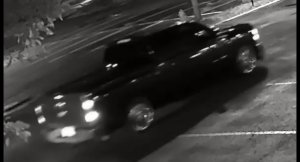 If you recognize any of the people in the photos, please call the Arvada Police Department at 720-898-6725 or Metro Denver Crime Stoppers at 720-913-STOP.