This is an archived article and the information in the article may be outdated. Please look at the time stamp on the story to see when it was last updated.
GREELEY, Colo. – Two suspected gang members could face hate crime charges after police say they attacked an Army war veteran at a Greeley bar because they thought he was gay.
The incident happened early Saturday when Michael Lamonday, 24, walked into the men's restroom at Pitchers Brewery on 11th Ave.
Lamonday told the Greeley Tribune that two men at the urinals made the comment "Hey, look at the homo," to which he replied "I'm not a homo."
The twice-deployed Iraq and Afghanistan war veteran says the men, later identified as Jordon Tapia and Mason Meza, both 21, cornered him in a stall where the fight broke out.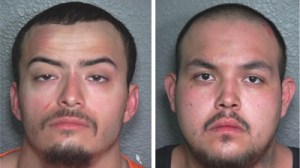 Lamonday says he was kicked, punched and bit several times, but fought back by putting one of his attackers in a choke hold.
Lamonday's friends eventually went to check on him in the restroom and broke up the fight.
"The biggest thing that bothers me, is I did serve in the military, and I was deployed twice, and I come home to someone jumping me," Lamonday told the Greeley Tribune. "I served my country and I come home to people I fought for, and they're the ones jumping me."
Criminal charges against Tapia and Meza are pending.