This is an archived article and the information in the article may be outdated. Please look at the time stamp on the story to see when it was last updated.
DENVER -- Michelle Limon held back tears as she described her father, Richard Limon, who was brutally murdered in August of 2011.
She said, "He was a special person to me and my family. He did a lot of the community.. he was a good man. he was loved dearly. He was just taken from me and my brother and his grandkids and everybody in a really violent manner. All I want is for justice to be served because it is hard for me to get over it.. I am still suffering."
Thursday, Richard Limon's alleged killer was named one of the FBI's Ten Most Wanted Fugitives. It happened on the 63rd anniversary of the FBI program.
Agents say Edwin Ernesto Rivera Gracias is a dangerous man, who has gang affiliations to one of the most dangerous gangs in the world.
Special Agent in Charge of the Denver Division of the FBI, James Yacone said, "he has direct ties to MS13 ... so he is part of an international gang that is really spread throughout the US and highly concentrated and really emanates from El Salvador and Guatemala."
Assistant Special Agent in Charge, Michael Rankin said, "MS13 is one of the most violent gangs operating in the United States and Central America as well."
Rivera Gracias is believed to be in El Salvador, but agents say he has family, friends and gang connections in the Denver metro area.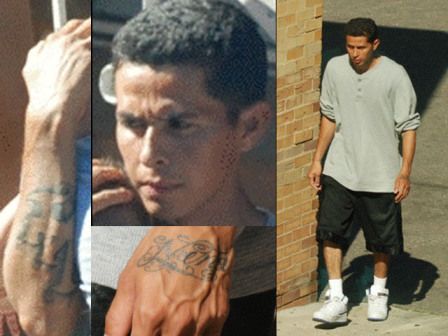 SAC Yacone said, "we are asking the media and public's assistance in bringing this dangerous fugitive to justice."
Jefferson County Sheriff Ted Mink said of the FBI's involvement, "Without their assistance without their cooperation and without their energy, we would not have any hope at all of bringing this individual back into this country to face this murder charge."
The FBI is offering a $100,000 reward for information directly leading to the capture of Rivera Gracias.
SAC Yacone said he was chosen after a lengthy process in which FBI offices around the country submit fugitives to be considered for nomination. "Who is the most heinous, who has international ties, who poses a significant flight risk? I think it's the brutality that he is alleged to have done to the victim, but also more importantly, his direct ties to MS13."
He went on to say, "What the public needs to do is call immediately 911. No one needs to attempt to apprehend him." He is considered extremely dangerous.
The victim's family appreciates the national and international exposure the search is now receiving.
Michelle Limon said, "I will just like justice to be served because I will rest easier at night knowing that everyone has paid for what he did. I just want to thank everyone for all their help. I hope this gets us some justice and help finding the person who murdered my father."
The last fugitive from Colorado added to the list from the FBI Denver Division was Ted Bundy in 1978.
He was captured on February 15, 1978, for a murder he committed in Aspen.
There have been 498 people added to the most wanted list during the last 63 years. 467 of them have been captured. A third of those captured were thanks to tips from the public. The FBI's "Ten Most Wanted Fugitives" program was launched on March 14, 1950.
For more pictures and information visit FBI.gov.