This is an archived article and the information in the article may be outdated. Please look at the time stamp on the story to see when it was last updated.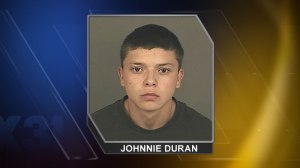 DENVER -- A suspect in Thursday night's fatal hit-and-run accident has turned himself in, Denver Police said Friday.
Johnnie Duran, 18, surrendered to officers Friday afternoon, police said in a tweet. He's being held on investigation of vehicular homicide and leaving the scene of an accident.
Duran is the nephew of the victim, identified as Eugene Guerra, 58, of Denver.
The incident happened at East 48th Avenue and Clarkson Street about 10 p.m. Thursday where police say a driver in a white Chevrolet pickup hit Guerra after a confrontation and took off.
Police said the victim was protecting a scrap metal yard when they say a driver in a truck pulled up and started loading up on metal.
Police said the two started arguing and witnesses said the driver took off and hit the victim and also caused metal to fall on top of him. The victim died at the scene.