This is an archived article and the information in the article may be outdated. Please look at the time stamp on the story to see when it was last updated.
EL PASO COUNTY, Colo. — The 19-year-old suspect in the deaths of two El Paso County teens was arrested last month for allegedly attacking and trying to kidnap a woman.
Gustavo Marquez has been booked on two counts of first-degree murder, two counts of aggravated robbery, two counts of kidnapping and one count of child abuse resulting in death.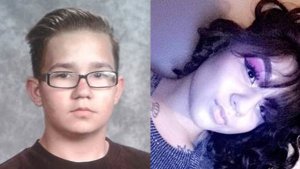 Derek Benjamin Greer, 15, and Natalie Partida, 16, were found dead along the shoulder of Old Pueblo Road just south of Hanover Road near Fountain on March 12. A man who was driving by spotted the bodies and called police.
The El Paso County Sheriff's Office has not said how the teenagers died.
Less than a month before Greer and Partida were killed, the Fountain Police Department arrested Marquez in connection with a domestic violence case.
According to the arrest affidavit, a woman identified only as the mother of Marquez's child, said Marquez tried to force her into his car when he came to pick up their son on Feb. 24.
The woman told investigators that Marquez grabbed her by the throat and tried to pull her toward the car, but she sat down on the ground.
She said Marquez lifted her off the ground with one hand around her neck and his other hand under her shoulder, and slammed her into the side of the car.
She said he then bent her pinkie fingers back and tried to break them.
She said she tried to run, but he pushed her to the ground and held her down until neighbors showed up.
Two women told officers they witnessed the struggle and one of them said she had taken photos of Marquez pushing the victim against the vehicle.
Marquez was charged with attempted kidnapping, strangulation (second-degree assault), harassment and child abuse.
The investigation into the deaths of Greer and Partida is ongoing.