This is an archived article and the information in the article may be outdated. Please look at the time stamp on the story to see when it was last updated.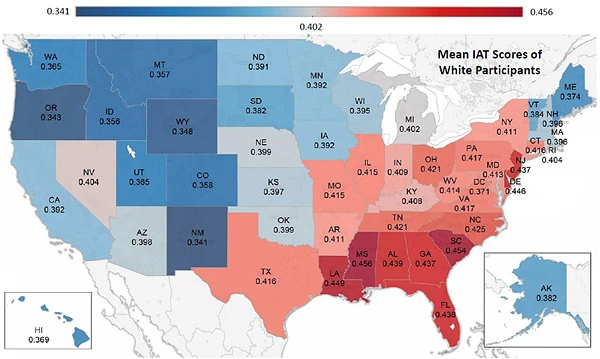 DENVER — I'm white, I'm politically neutral, I have a bachelor's degree, I've lived in Seattle, Bozeman, Mont., Los Angeles and Denver, and I grew up with primarily white classmates and teachers in Littleton.
I also have a strong implicit preference for white people.
I was not aware of that last detail about myself — the validity of which is certainly up for more debate than the previous five — until I took the Race Implicit Association Test made available online by Project Implicit.
RELATED: Take the Race Implicit Association Test
To be fair, the test, conducted by researchers at the universities of Washington, Virginia and Harvard, doesn't describe race in terms as clear as black and white. Instead, it describes the two races included in the test as African American and European American.
After you complete the test, you're informed whether you have logged a slight, moderate, strong or neutral preference in regard to African or European Americans. There's also a chance your results could come back as indecipherable if you didn't respond to the test questions fast enough.
I might have found my own personal test results more upsetting, but it turns out most of the 2 million study participants are just like me: unable to control (and likely unaware of) their implicit racial biases.
The average test result for all participants falls within the moderately bias range of .35 to .65, with participants harboring a moderate preference for European Americans. The test results occur on a scale where 1 indicates the strongest preference for European Americans, 0 indicates no preference for either group and -1 equals the strongest preference for African Americans.
(As an aside, it seems to me that this is an oddly biased scoring system. And I'd be surprised if Project Implicit researchers disagreed.)
The test charges participants with rapidly sorting a series of faces as either "African American" or "European American" with the click of a key, while also sorting a variety of words as "good" or "bad" — with words like "joy" and "happy" representing "good" and words like "agony" and "anger" representing "bad."
Clicks that result in a bias score take place when the participant is faster at categorizing "good" or "bad" words when they are paired with either African or European American faces. These clicks, according to researches, signify an uncontrolled mental association between a particular face and word.
When you break the results down into categories, more interesting date emerges.
For instance, white participants showed the strongest European American bias of all surveyed racial groups, with an average score of just under .40 — squarely in the moderate range. Black participants, meanwhile, showed only a slight African American bias, with a score of near -.05.
Among white participants, the least biased live in Oregon, which showed an average score of .343, which actually qualifies as just slightly biased, while the most biased live in Mississippi, which showed an average score of .456. Colorado is on the less-biased end of the country, but is still considered moderately biased with an average score of .358.
It's not as though participants in this study represent a random sampling of the country, either. These are people who made the conscious choice to take a test in an effort to measure their own implicit biases, which might suggest these test results are less biased than a more-representative survey of the nation would be.
While Project Implicit's study is very recent, the test and methods it utilizes date back decades. The Implicit Association Test was created in 1995 by University of Washington psychiatrist Anthony Greenwald, and the study of implicit behaviors has profoundly expanded since then.
The degree to which these sorts of implicit biases could influence split-second decisions — the sort that have led to the high-profiles deaths of Michael Brown, Eric Garner and Tamir Rice in the last six months — is difficult to discern with any degree of certainty.
But it is interesting to ponder, especially if you find that in this test, your brain makes split-second inferences that you feel you wouldn't make if given more time to ponder your choices.