This is an archived article and the information in the article may be outdated. Please look at the time stamp on the story to see when it was last updated.
BOULDER — The Boulder Valley School District spent much of the day Tuesday urging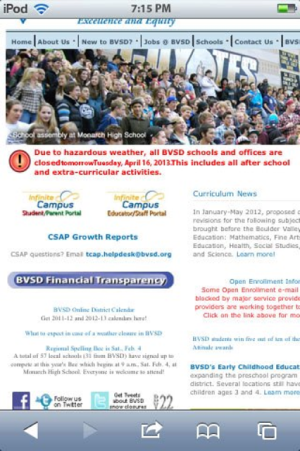 people to ignore a fake web page that students created declaring a district-wide snow day.
The Daily Camera reported that students who were upset the district didn't declare Tuesday a snow day created the fake BVSD website.
The page included a "red light" alert message that read, "Due to hazardous weather, all BVSD schools and offices are closed tomorrow Tuesday, April 16, 2013. This includes all after school and extra-curricular activities."
The web page became popular through social media, forcing Boulder Valley district officials to post a link to their actual website onto their Facebook page saying that it was "the only official website for the district."
"We decided the best we could do was to make sure we let people know this was the official Facebook page and website," Boulder Valley spokeswoman Maela Moore told the Camera.
Boulder Valley schools also used their Twitter account, @BVSDalerts, to alert people about the prank.
Boulder received 13.9 inches of snow after Monday's storm. Several parents and students said they were unhappy with the district's decision to keep schools open.
Read more at the DailyCamera.com.