This is an archived article and the information in the article may be outdated. Please look at the time stamp on the story to see when it was last updated.
DENVER — Students from South High School in Denver, in solidarity with protesters in Ferguson and New York, walked out of class Monday morning and blocked traffic along Broadway as they made their way downtown.
The walkout was coordinated with school officials and police.
It had originally been planned for students to walk to Washington Park, but students continued onto Broadway and began to make their way north to downtown Denver.
LINK: Traffic conditions
At several points students walked in the street blocking traffic.
6th – 10th graders marching down Broadway towards #Denver for #ICantBreathe @9NEWS @KDVR pic.twitter.com/MAlUvJUNDW

— John Camalick (@JohnCamalick) December 8, 2014
Denver Police officers have been escorting the students. Officers were also staged at the State Capitol.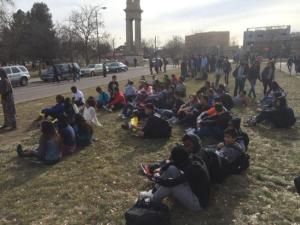 The students reached the Capitol around 11:30 a.m.  Some were heard chanting "F*ck the police."
From the Capitol, many students walked to East High School, where the first major student protest happened last week.
While at East High, Pastor Reginald Holmes, a pastor for the New Covenant Christian Church in Denver, told the students that, "We need authority. We respect authority. We just want authority to respect us."
Students boarded buses that took them back to school around 12:15 p.m.
The walkout is the fourth day of protests by high school students in Metro Denver.
This story will be updated as more information arrives.