This is an archived article and the information in the article may be outdated. Please look at the time stamp on the story to see when it was last updated.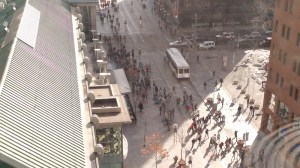 DENVER — Students from East High School in Denver walked out of classes Wednesday morning in a protest over a grand jury decision in Ferguson Mo., last week.
The students walked down Colfax Avenue toward Civic Center Park.
Denver Police provided an escort for the students, who at times walked in the street stopping traffic. Tragically, four of those officers were injured — one of them critically — when they were hit by a car at the intersection of Colfax Avenue and High Street near the end of the protest.
SLIDESHOW: Students shut down Colfax during march
@Lalez_roca tweeted that "Every student took over Colfax walking the way to the capital!" and "Now we're all over downtown."
Students from East High School in #Denver walked out of class Wednesday morning in support of #Ferguson. pic.twitter.com/31e0jMy5QY

— Urban Cusp Magazine (@UrbanCusp) December 3, 2014
From 16th at mall ro Colfax and Broadway students began heading east again on the fax back to east high pic.twitter.com/xWWUXvVPQ4

— Jon Bowman (@jon_bowman) December 3, 2014
https://twitter.com/natgray/status/540191860778876928
Sophomore organizer Amarae Moland said the walkout was planned through fliers distributed through school beginning Monday.
The students' march came at the same time a group of American Indians were holding a memorial for the Sand Creek Massacre in front of the state capitol.
From the capitol to city hall east high students and native Americans protest in Denver pic.twitter.com/611Gq6SEUT

— Jon Bowman (@jon_bowman) December 3, 2014
Denver East High #Ferguson protesters accidentally crash #sandcreekmassacre event, apologize pic.twitter.com/Eurz0KhWjF

— Colleen Slevin (@colleenslevin) December 3, 2014
The Denver Post reported about 1,000 students took part in the march.
As they marched, students chanted "Hands up, don't shoot" and "Justice for Michael," according to several accounts on Twitter.
After reaching Civic Center Park, the crowd moved toward downtown along the 16th Street Mall.  They mostly spread out and dispersed after that.
Around 11:30 a.m., the students regathered at Colfax and Broadway, where they held a 4 1/2-minute moment of silence, marking every hour Brown was in the street. The group then began a march back to the high school.
Denver police shut down Colfax to clear the way for the students walking down the road.
In a note sent to parents, East High School principal Andy Mendelsberg confirmed he joined students during the walkout with police to help "ensure the students' safety."
"To be clear, not all East students participated in this walkout," Mendelsberg wrote. "I encourage you to take this opportunity to have an open conversation with your student to learn if they participated in today's walk-out and act of solidarity in response this important community conversation.
"It's important for our students to join these critical community conversations, and they have demonstrated their engagement in these important issues by interjecting their voices in thoughtful and peaceful means.