This is an archived article and the information in the article may be outdated. Please look at the time stamp on the story to see when it was last updated.
DENVER — Upcoming weather conditions do not look good for fighting wildfires these next two days.
Thursday we saw isolated thundershowers pop up along the northern Front Range with gusty winds and little rain. The worst thing for fighting wildfires is a storm, with lightning, little rain and unpredictable gusty winds.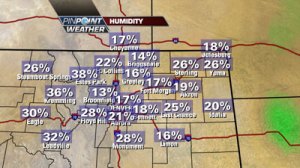 The forecast for the rest of Thursday afternoon is for winds gusting to over 30 mph with more isolated storms. But then the weather situation gets worse for the Hewlett Fire on Friday.
Gusty southwesterly winds are forecast for the end of the week.
 A RED FLAG WARNING goes into effect in the morning and will stay in effect until 10 p.m. Friday for most of the Western Valleys and the Northern Mountains.
Winds will gust to over 40 mph, and humidities will be below 10 percent.  What's more, daytime high temperatures will be over 80 degrees making it easier for this wildfire to spread even more quickly.
Right now there are two heavy air tankers stationed at Rocky Mountain Metro Airport, and at least one single engine air tanker at Fort Collins-Loveland Airport.  It appears that this weekend will be a busy one for firefighters.