This is an archived article and the information in the article may be outdated. Please look at the time stamp on the story to see when it was last updated.
LONGMONT, Colo. — A 26-year-old woman who was seven months pregnant is recovering in the hospital after she was stabbed in the stomach while answering a Craigslist ad for baby clothes and her fetus was then cut from the womb.
Officers with the Longmont Police Department were called to the 1600 block of Green Place at about 2:40 p.m. Wednesday.
"Officers arrived on scene and could hear a female calling for help inside the home. Officers entered the home and located a female who had been beaten and stabbed in the stomach," Longmont police said.
"It was later learned, the female was pregnant and her baby had been removed. The victim was transported to the Longmont United Hospital where she underwent surgery and is expected to recover."
RELATED: Redacted Dynel Lane Arrest Report
Police said the 34-year-old suspect, identified as Dynel Catrece Lane, went to a hospital with the baby claiming a miscarriage. The baby did not survive.
The victim was identified as Michelle Wilkins.
Police said her husband drove her and the baby to the hospital, but it's not clear if he was inside the home when the attack happened. The husband is not under arrest.
Police said the victim, who has not been identified, went to the suspect's house to buy some baby clothes she found in an ad on Craigslist. She underwent surgery and is expected to recover. The women did not know each other.
The victim managed to call 911 after the stabbing and sounded barely conscious in calling for help.
LISTEN: 911 phone call from victim (Warning: Some listeners might be troubled by the call)

"She cut me. … I'm pregnant," the victim could be heard telling the dispatcher.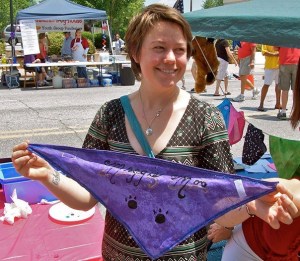 Lane was arrested on a number of felony charges, including attempted first-degree murder, first-degree assault and child abuse knowingly/reckless resulting in death. She is due in court Thursday. A baby registry in Lane's name showed she was pregnant last year and due to give birth in November.
Lane's stepfather told FOX31 Denver that Lane told her family she was pregnant and on Wednesday, she told the family she "lost the baby."
In 2002, Lane, then using the name Dynel Cruz, lost a 19-month-old son in Pueblo in a drowning incident, according to a story in the Pueblo Chieftain.
Lane previously held a certified nurse's aide credential, according to the Colorado Department of Regulatory Agencies. She held the credential from 2010 until it expired in January 2012. She had no discipline actions taken against her.
The Boulder County District Attorney's Office will determine which charges to file.
"The issues involving an unborn child are complicated under Colorado law," Boulder County District Attorney Stan Garnett said. "In most circumstances, if a child was not actually born alive, then homicide charges are not possible."
Longmont police also is asking for the public's help to determine if anyone else has responded to the Craigslist ad.
"We are wondering if any other mothers responded to the Craigslist ad for baby clothes," Cmdr. Jeff Satur said in a news release. "The suspect represented herself as 'D' or Dynel. They may have gone to her address at 1620 Green Place, Longmont, Colorado."
Anyone with information is asked to call Longmont police at 303-651-8501.
[protected-iframe id="20d946d89fbb17690c053d04f8c072e3-29290497-12443415″ info="https://www.google.com/maps/embed?pb=!1m14!1m8!1m3!1d3049.013097491286!2d-105.1195828!3d40.16426209999999!3m2!1i1024!2i768!4f13.1!3m3!1m2!1s0x876bf978cd033ee7%3A0x4bd63b61caffa22e!2s1600+Green+Pl%2C+Longmont%2C+CO+80501!5e0!3m2!1sen!2sus!4v1426726720765″ width="100%" height="450″ frameborder="0″ style="border:0″]