This is an archived article and the information in the article may be outdated. Please look at the time stamp on the story to see when it was last updated.
JEFFERSON COUNTY, Mo. — A St. Bernard that was stolen from its owners in Colorado five years ago was found in Missouri last week.
A good Samaritan has volunteered to drive "Missy" more than 900 miles to bring her home.
The shelter that had Missy posted photos of her on Sept. 19, saying she would be available for adoption on Sept. 24.
"Missy comes to the front of her kennel with tail wagging," Jefferson County Animal Control posted. "Loves belly rubs and being out in the yard. She seems to be very calm and laid back. She comes when she is called and knows how to sit, shake and lay down."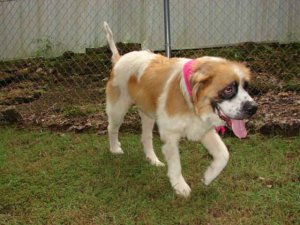 Brandi Cross saw the post and helped track down Missy's owner.
"There was a St. Bernard that came into JCAC and the info on the chip was from Colorado — outdated info. Just a few clicks of the name and address and it was discovered that they spelled the owners first name wrong. I was able to locate her owners this evening and this poor dog was a companion animal for a special needs girl and this dog was stolen out of their yard 5 years ago!" Cross wrote on Facebook. 
"A beautiful, selfless, compassionate woman named Melissa Wideman-Morton is making the trip from St. Louis to Colorado using her own funds," Cross said on a GoFundMe page.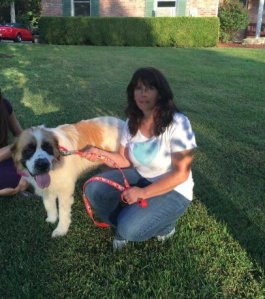 "If any of you animal lovers would be so kind to possibly help out with money for gas, lodging, etc., every little bit would help.  Thank you everyone for your consideration and generosity!"
Wideman-Morton and a friend plan to leave Friday and arrive in Colorado Saturday morning.
"I hope this is a happy reunion for all of them," Cross said.